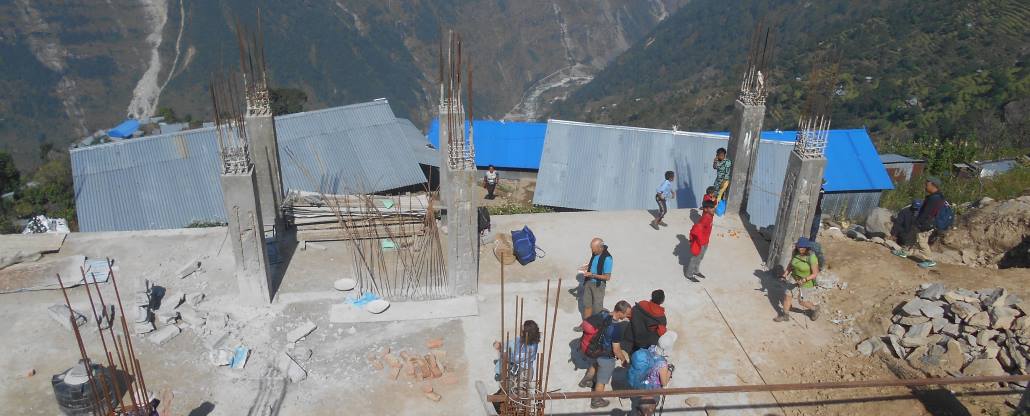 October 2018
The village of Paelep revives.
The earthquake in April 2015 had killed 30 people, destroyed most homes and severely damaged the water network.
Today the water flows again and the houses are being rebuilt in this village on the edge of the Langtang region. The terraces of agricultural land that had been abandoned for three years are being rebuilt. All this was made possible because water is available again.
Laurent Breuer, who visited Paelep together with a trekking-group from the Belgian Alpine Club section Hainaut, testifies to the revival of the village. With the money collected by Bikas and the Rotary Clubs of Gerpinnes, Beaumont / Erquelinnes, Courcelles 2000 and Philippeville, the villagers have built 20 public fountains up and down in the village, as well as in the vicinity of the school (see photos).
Because there is a large difference in altitude, three intermediate water tanks were also built to reduce the water pressure.
The villagers want to add another ten fountains and hope to be ready with the complete water network by the end of March 2019. However, because those fountains are located further, longer pipes must be provided with again intermediate water tanks. The entire project is carried out by the inhabitants of Paelep themselves.
The impact of the project 'Build me a Village' (Construis-moi un village) on the population is enormous: water is life and people are fully aware of it!
Everything seems to revive!
If we compare with the hell we saw after the earthquake, everything seems much better for the population now, the houses are being rebuilt, the school now has five teachers and 86 enrolled pupils, many residents who had left the village for Kathmandu are considering a return.
In addition to the 'Build me a Village' campaign, other development projects are seeing life: the Hainaut Alpine Club has recruited ten people from Paelep and decided to sponsor the establishment of a local mountain sports club. Tents, cords and other climbing equipment are already on site.
Thank you to all. This beautiful project did not miss its start and continues to develop.
Laurent Breuer and Marc Preyat