About the cooperation between Nepalese and Belgian schools.
Five small faces look through the windows of a classroom in Bakhfar, in the Inner Terai, an area south of Kathmandu area, where the plains merge into the hills.
We invite them: "Aaunus, come in." Initially they are too shy, but the teachers who participate in the teacher training can convince them. "They have had no exposure," says Binod Gurung of the Centre for Educational Policies and Practices, briefly CEPP: these children have never met anyone outside their own environment.
CEPP has gathered twelve teachers from the area. We work together in a classroom with only a small whiteboard and three educational posters. Together with the Bakhfar teachers, CEPP has built a wooden platform using recycled materials. It is covered with carpeting. Children will no longer have to sit on the cold, dusty floor. Didactic materials are not available, there are only teachers with little pedagogical education but full of enthusiasm and willing to invest a lot of effort and enthusiasm. Even when a storm rises, when the classroom is shrouded in a dust cloud, when we have to close the hatches and the class gets dark, they continue to design games, test them with the children, tell stories, discuss.

For CEPP (http://schoolingnepal.org/) these people are the key to better education, motivating them is a key issue.
Absenteism and demotivation are major problems in public schools in the countryside. There is almost no government control and the teachers often come from the city, do not speak the mother tongue of the children, belong to another culture. They are forced to stay in the school because the city is too far away. They cannot often be with their own family and are sometimes little involved in the community in which they teach.
CEPP therefore addresses three aspects:
☼ raising awareness of parents about the importance of good education, motivating them to send their children to school, pointing out their rights and managing the functioning of the School Management Committees (a parent and community-based schooling community);
☼ motivating, appreciating and training teachers about child-oriented education;
☼ influencing education policy, at both the local and national level.
The emphasis is mainly on substantive education, although improving the school infrastructure and restoring earthquake damage can strengthen the motivation of teachers, students and parents.
CEPP is an initiative of Teeka Bhattarai, Nepalese development worker, after following a Master's degree in Pedagogy at Leuven University in 2008. Until then Teeka was mainly active in the agricultural sector, including the former Econepal, supported by BIKAS. We participated in CEPP from its very beginning, together with a secondary school Sint Vincentius a Paulo in Gijzegem, who offered moral, educational and financial support.
After seven years, the school is still actively involved. The students are informed at the start of the school year and temporary, changing exhibitions around Nepal are organised. With Saved by the Bell they pay attention to the right to primary education. In November 2015, CEPP's Binod Gurung and Michael Rai came to talk to them and discuss with them. Every February there is a Valentine's Day Market (https://youtu.be/axRWZZBwVr4). The students themselves look up information about Nepal, design educational materials for Nepalese primary schools and take various initiatives for fundraising.
Valentine's market - Instituut Sint-Vincentius a Paulo - Gijzegem

Meanwhile, the network has been expanded and CEPP can count on the efforts and talents of students and teachers from different schools. Students of Luca School of Arts Gent design awareness campaigns about the motto of CEPP: 'Education is a Light'. The trainees of Arteveldehogeschool Gent and Luca and the students of Odisee Hogeschool Aalst contribute to improving the quality of education in and around Raigaon, in Makwanpur District, the rural region where the CEPP team is active.
In October, Arteveldehogeschool invited CEPP staff Binod and Michael to a 14-day university programme, with participants from Asia, Africa and Latin America: "From minus 6 months up to 6 years of age - Fostering child development". This course was complemented by a formation within Luca School of Arts and a practical immersion in various classes in the primary and secondary school in Gijzegem and in the teacher training department of Odisee Aalst.
We organised participatory sessions in all classes of the primary school of Sint-Vincentius Gijzegem. The children spontaneously offered to do small chores in their family in order to help their classmates in Nepal.
The kindergarten and primary school teachers demonstrated activities that could work in Nepal primary schools as well, focusing mainly on creativity and cooperative learning.
We go to Nepal every year to provide three-day trainings in child-oriented education, didactics of primary and pre-primary education in different schools. In April we also taught in the classrooms that were developed by Laure, Kayleigh, Lisa-Marie and Sofie, Arteveld students. We experienced how proud the teachers are in these "ideal classrooms", how much they appreciate the commitment and involvement of Belgian students. We could feel how comfortable it is to work in these classrooms.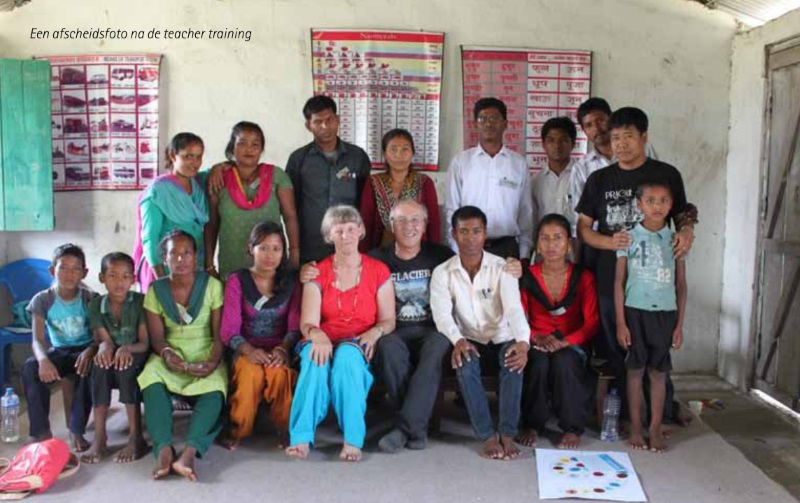 In Bakhfar, we worked with the teachers and with CEPP staff Binod, Kesap and Bishnu. Nepalese teachers often say: "We have no money, no good schools, no learning resources", but we discovered together how anything can play a role in education: nature around the school, the river, the green playground, the cultivated fields, the village. To teach about a buffalo you do not need prints or a book about a buffalo, you can observe the buffalo with the children, talk about it, learn about it, draw, play... You can be creative with everything you can find around the school: twigs, stones, leaves ... You can use your own singing, drawing and storytelling talents.
We were impressed by the friendship of the teachers, by their energy, their inspiration. They often work in difficult circumstances, but by their dedication they can make the difference and support their students in building a future.
After three days of training, during the review, one of the teachers said, "We thought we had nothing, but we have everything". For us, that faith in their own environment and in their own talents is the most beautiful conclusion.
Many thanks to BIKAS and to everyone who supported and supported CEPP.
Paul Beké and Carine Verleye
"One child, one teacher, one book and one pen can change the world." - Malala Yousafzai
---