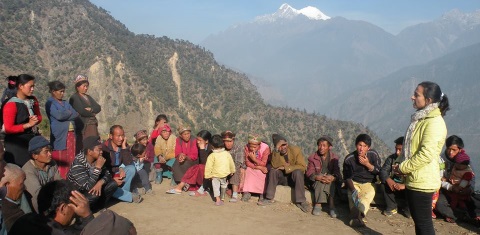 De heropbouw is begonnen. Men gaat nu 23 huizen bouwen in Haku en 30 huizen in Nessing, een deeldorp bij Haku. Dit zijn de mensen die het meest dringend een huis nodig hebben. En dan komen de anderen ..... nog heel veel werk... maar we gaan ervoor. Hieronder een verslag van Shilshila Acharya. Zij werkt voor de locale ngo HCI. HCI staat voor Himalayan Climate Initiative
http://himalayanclimate.org/
. Ze bezocht Haku en Nessing begin December. Shilshila bezocht eind oktober samen met Betty het dorp Haku. Door de hevige regen kon toen het bezoek aan Nessing niet doorgaan.
Each one of the 72 households in this village, Nessing, Rasuwa have not received any kind of support yet. Each one of them are desperate to receive support with the fast approaching snowfall (in few weeks) and are equally in need of a shelter. Yet, when asked which houses among them are the most needy ones who can be helped immediately with a सुरक्षित घर- Resilient Homes unit, within half an hour , enthusiastically, they came up with a list of 30 among them and said, you can start with these 30. Rest of us can wait.
Proved once again: to be generous, you don't need a lot of money. You just need a caring heart.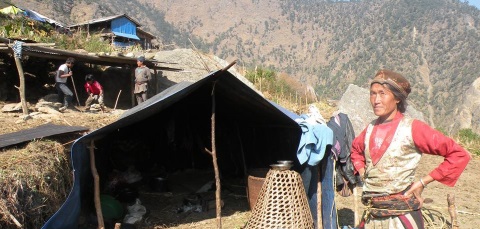 Feels like for us Nepalis, the word 'life' has become synonymous with a long, long, almost-never-ending wait for the most basic necessities of life one can think of.

Never-ending lines for petrol, diesel, cooking gas in the so-called accessible towns and cities....
Never-ending wait for the government to listen to the most basic rights, concerns and the plight of its own people in the plains of T...erai...
Never ending wait of the people in the remote and far-flung Earthquake affected areas in the hills and the mountains in the hope of some assistance to cope with the fast-approaching winter.

I visited Rasuwa District, 2 days ago. I had gone there to see the condition of shelter for the villagers in Haku VDC, ward No. 1- Nessing and see how we can provide shelter assistance for them to cope with the winter.

I was shocked to see a shelter like this in Nessing village: at an altitude of 2,500 meters, this tent, with hardly any space for two people to sit, is the only space for a family of 8. The family has been using this little space for everything: cooking, sleeping and storing it's belongings for the past 8 months. It is already freezing cold there and will start to snow in few weeks. When I asked what they're using to cover the sides of the tent to stop the wind during the night, this lady said, 'Nothing'. If something is not done soon to help shelter-less, earthquake affected families to arrange a shelter, it's going to be very difficult for many families like this to survive this winter.

Time is running out. Planning to help 89 most needy families in the mountains of Rasuwa to cope with the winter, by providing them with 'Resilient Homes' shelters. Despite the fuel crisis and the goods crisis, I'm hoping we can reach out to them on time and help build shelters before snow falls. Fingers Crossed.