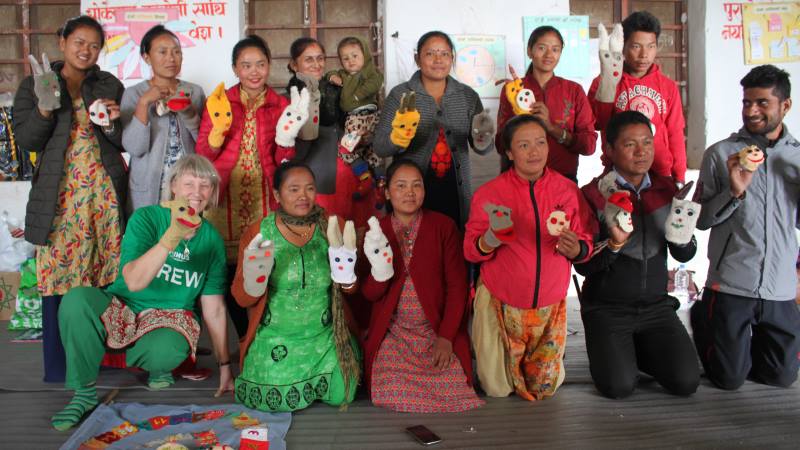 Januari 2019
Between November 17 and December 29, we took a six-day holiday and spent five weeks 'in the field', in the remote villages of CEPP's working area. We lived with the people, immersed ourselves in education, worked together with teacher trainers Michael and Ganesh from CEPP, with Bishuman and Dil Chepang from Little Flower Society, with teachers, children and parents. We gave training in Neupane (Tamang village in the district of Kavre), Chhap (Sindhuli), Bharta (in the Chepang Hills, Makwanpur), Navodaya School (free education and boarding school for children of the Chepang minority in Tandi, Chitwan), Jutepani ( Sindhuli), Raigaun (Makwanpur). We were able to document the schools in this area for the students of the teacher training college at Erasmus Hogeschool Brussel and Odisee Hogeschool Brussel, who start their internship in Nepal at the end of January.
Continuity is important for these schools, for our CEPP partners and for us, and we believe that this prospection allows us to support students to work in the field as effectively as possible.
Thank you all for your trust!
Together with the people from the Brick Children School and the Cerebral Palsy class, we developed colorful velvet fishes, a tactile book and a tactile blanket for the children with CP.
Networking is also important in Nepal itself. We brought Puja Dunghana (https://bikas.org/EN/node/10), who is now 18 and works as a motivated temporary teacher in Neupane, in touch with CEPP and with the Brick Children School. We hope that these contacts will encourage her.
CEPP and the Brick Children School are determined to work together. Many families from Sindhuli, Rautahat, Makwanpur go to the brick factories in the dry season. They take the smallest children with them. After their time in the Kathmandu valley, it is often difficult for the children to reconnect with the education in their own village. In essence CEPP and the Brick Children School work with the same children and both organizations can support each other.
CEPP is also willing to help the new schools in Haku, Nesing and Khadbari in their pursuit of quality education. They want to set up a training activity called 'training level zero', an analysis of the initial situation on a pedagogical level, with accompanying advice, and a motivation programme. Then they will pass on the details of skilled teacher trainers.
We ourselves have evolved from 'teacher training' to 'teaching exchanges', in mutual respect.
We are guided by a number of principles, which we also share with the people in the field:
The purpose of education is to create a happy environment in which children can be themselves and can evolve in a positive way.
Through education, we can pass on knowledge, skills, attitudes and values.
We can achieve it in a formal way: by grouping children in a school environment. Their grandfather can teach them a skill, their mother can teach them to respect their siblings, the shopkeeper can teach them to be careful with money, the neighbour can teach them to love plants and animals...
Education happens everywhere, not only in a formal environment like a school, and anyone can be a teacher: anyone can teach children the things he / she is enthusiastic about.
Whenever we start a workshop, we tell the participants:
"We would like to organise a very practical workshop. The aim is to have a real exchange, to share ideas. We respect your autonomy and the fact that you and the teachers / educators / medical people / parents know the children best, you are responsible for them day to day.
We think our contribution can be valuable because we have a long life experience and teaching experience and because we are interested in Nepalese people and the different cultures in Nepal.
We also want to learn about you and learn from your skills and knowledge.
We hope we'll have a good time together :)"
Our time in Nepal was intense and happy, as is apparent from the following photos: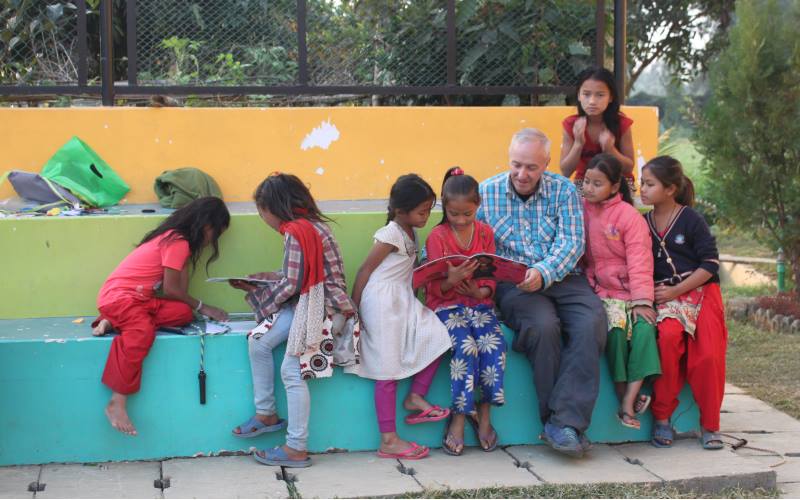 Reading promotion in Navodaya School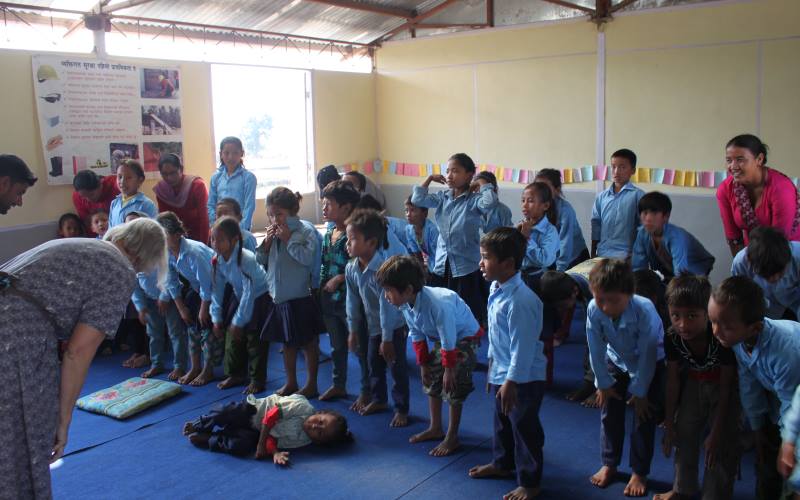 Teaching a song: Head and Shoulders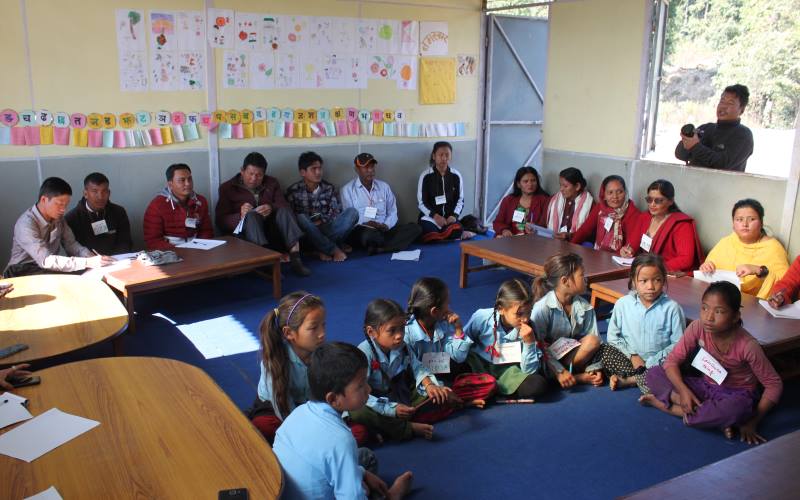 Teacher training in Jutepani - the children participate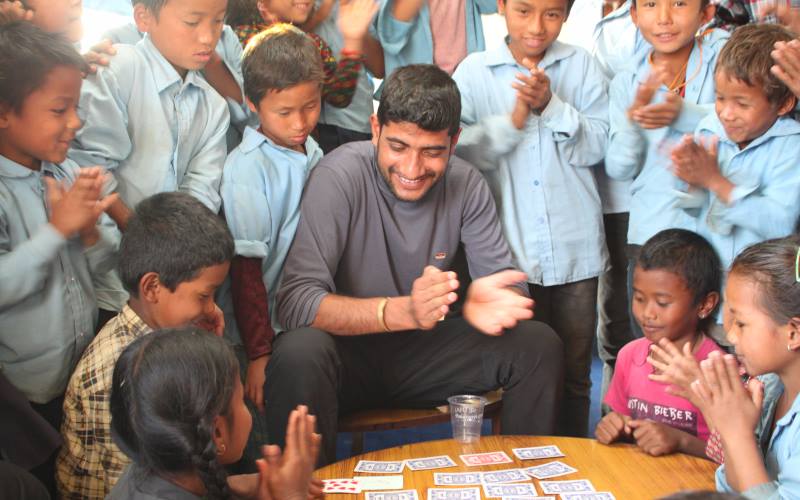 CEPP Teacher trainer Ganesh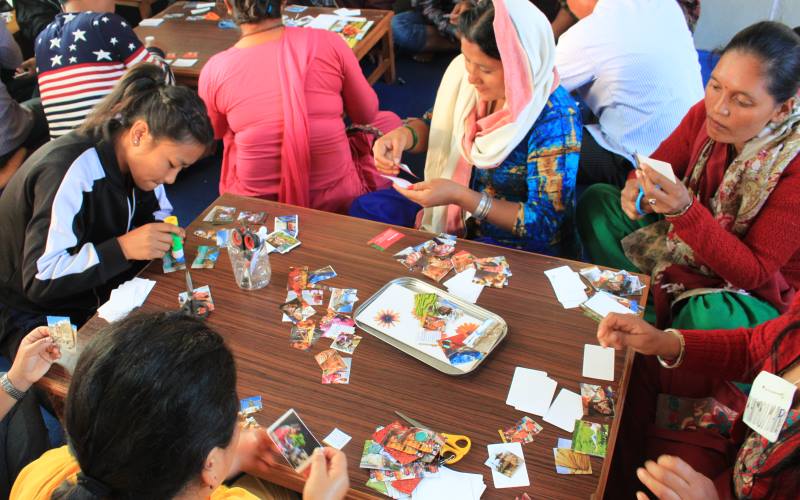 Memory games, flashcards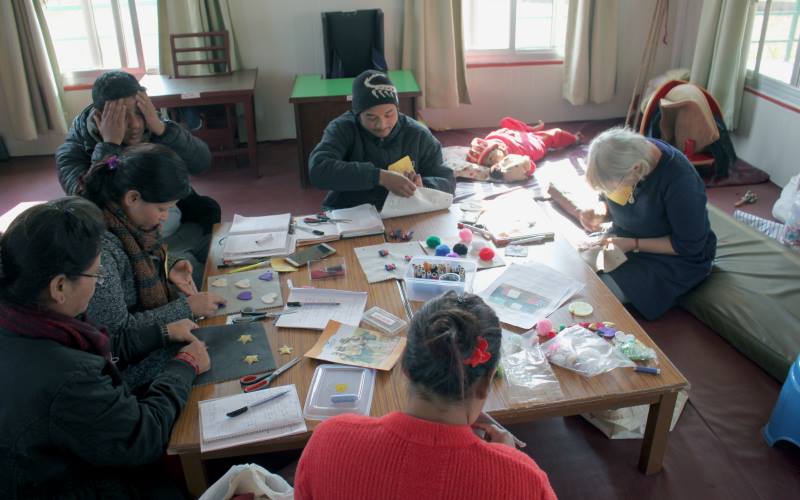 A tactile book for the children from the CP class
Do you want to support the efforts of CEPP to improve the quality of education in rural schools? This can be done on the account number BE32 2200 7878 0002 from Bikas, with the mention 'From school to school' or 'Friends of Paul and Carine'.
Thank you in the name of the children!
---
---
[ Published previously ]
November 2018

August 2018

April 2018

January 2018

October 2017

July 2017

April 2017

January 2017

October 2016

July 2016

January 2016

---