April 2020
Let's work together
Our work stay, from January 8 to February 26, 2020, gave us the privilege to collaborate with 10 different schools and to provide teacher training together with CEPP and students of the teacher training department of Erasmus Hogeschool Brussels. We could encourage and inspire each other!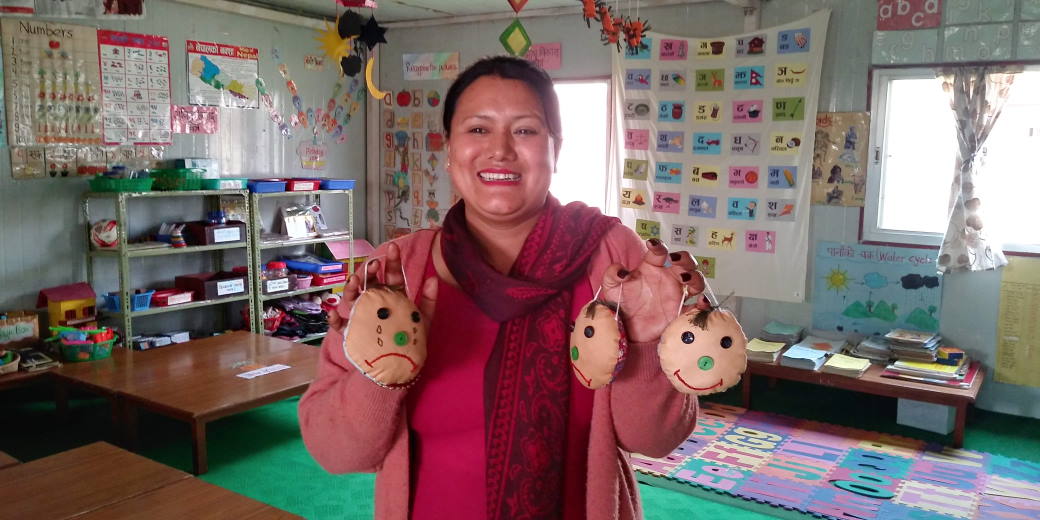 Susma, kindergarten teacher of the Brick Children School made these little dolls that help children to recognize emotions.
Susma, kindergarten teacher of the Brick Children School made these little dolls that help children to recognize emotions.

A natural playground was created in Jutepani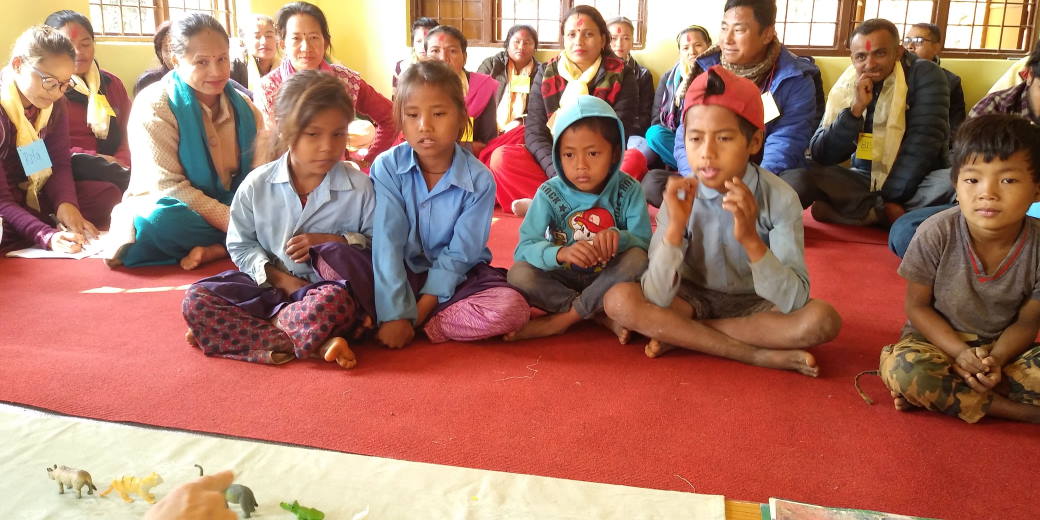 In Simras, children, 20 teachers from 15 different schools and 6 CEPP staff took part in the teacher training.
In Hakpara we made a World Class together. In this school, each class has its own vegetable garden.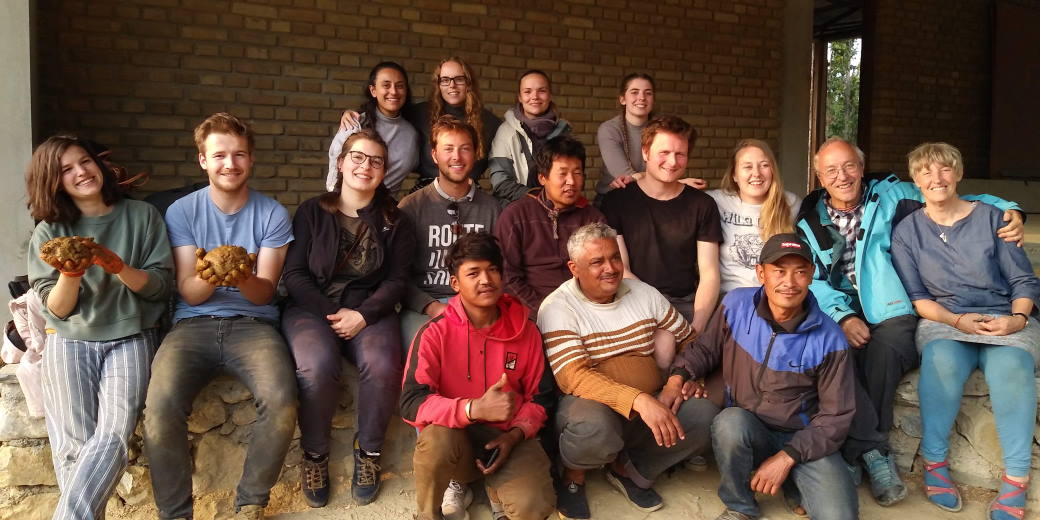 KULeuven Architectuur, Erasmus Hogeschool Brussel and CEPP joined efforts for the realization of the Post School in Chaap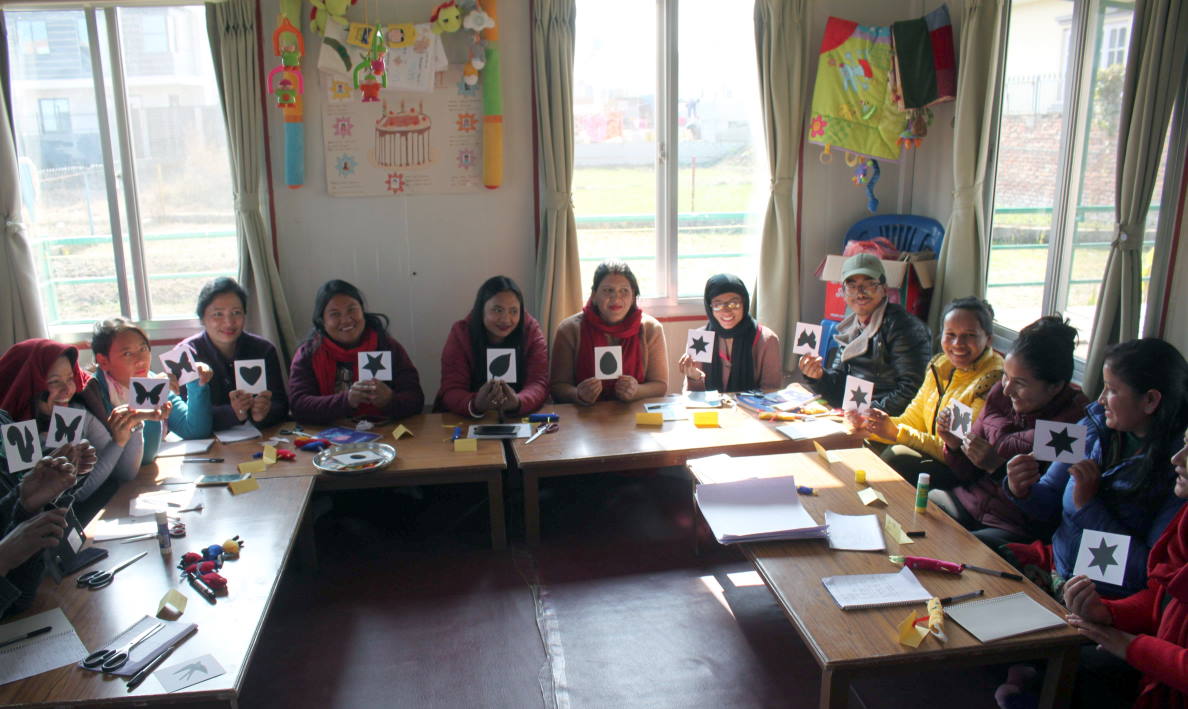 A workshop for 14 educators from the Cerebral Palsy Centre. We made materials adapted to the needs of children with a disability, such as these high contrast images. Children with CP often also have visual problems.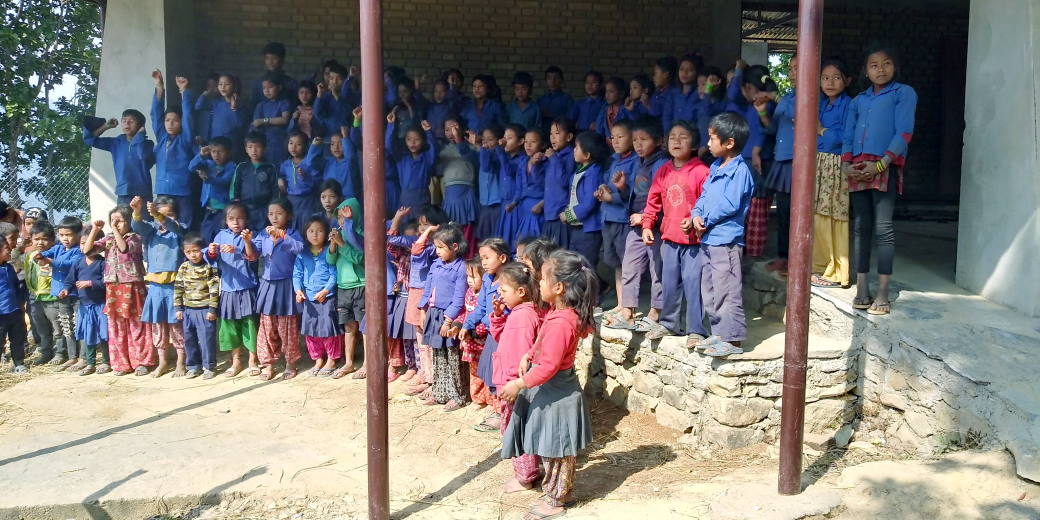 Unofficial inauguration of the Post School!
Unofficial inauguration of the Post School!

If you would like to support the efforts of CEPP (Centre for Educational Policies and Practices), your contribution is welcome on the account number BE 32 2200 7878 0002 of BIKAS, with the mention 'From school to school' or 'Friends of Paul and Carine '. Thank you!
Paul Beké en Carine Verleye
---
---
January 2020
Trees
Shree Primary School, Jutepani, and Shree Janjyoti Basic School, Hakpara, are a 45-minute walk from each other, in Sindhuli District, southern Nepal. Before 2019, Jutepani's playground had two trees, Hakpara's only one…
However, the temperature here can rise to 40 degrees in the summer.
Making schools greener is one of the main activities of CEPP, the Centre for Educational Policies and Practices, a Nepalese NGO that is committed to free ànd better education in this region.
Together with the local community, they provided a green enclosure with natural and local materials such as bamboo and shrubs. And also trees, so that the children can play in the shade. 17 trees and shrubs were planted in Jutepani, Hakpara's (large) playground now has 50 trees and shrubs…
Vegetable garden
School premises are not well maintained and they don't interest anyone. To make the school environment more lively, CEPP promotes the creation of kitchen gardens. The children and their teachers bring seeds and saplings in order to grow flowers and vegetables in front of their classroom. In this way, children learn how plants grow and what they need. It helps children to love plants, to take good care of them and to understand how important they are.
World Environment Day
90 children participated in a drawing competition: "Me and my green environment school". As a reward, 278 plants were distributed.
Child-oriented classes
Parents, children, teachers and Belgian interns helped to improve first-grade classes in Jutepani and Hakpara: painted walls, a raised wooden floor with carpet, low benches…
Jutepani is becoming an environmentally friendly and sustainable learning and living environment – and so is Hakpara!

Download additional photos
With special thanks to HESpace Children's Foundation and to everyone who supports CEPP through BIKAS vzw, account number BE32 2200 7878 0002. Please add 'From school to school' or 'Friends of Paul and Carine' as an entry.
---
November 2019
We have been working together for 10 years now with the Nepalese ngo CEPP (Centre for Educational Policies and Practices).
CEPP wants to improve public primary education, especially in remote areas in the south, where the alluvial plains start to give way to the mountains: Inner Terai.
They want to empower teachers, parents and students alike. Teachers in these remote villages have often had little (or no) formal pedagogical training, may come from a different ethnic group and, because of limited transport facilities, may be forced to live close to their schools and away from their families. Motivating them and appreciating them is of primary importance. Parents are often unaware of their rights, CEPP encourages them to get organised in SMCs, School Management Committees, so as to become partners in education, together with teachers, headmasters and local educational authorities. Students have a right to engaging, interesting educational activities, based on their own experiences and local environment, but also opening up the world for them and preparing them for Nepal's ever-changing prospects.
Moreover, CEPP wants to influence local and national educational policies.
It is in this context that we have been cooperating with CEPP, and our yearly 'teacher trainings' are evolving more and more towards 'teaching exchanges'. We work on a basis of equality, we exchange values, views and techniques in a spirit of modesty from our side, because: who are we, to tell Nepali teachers hów to teach? We would rather share our experiences and skills, exchange views, learn from them as much as they learn from us.
Mostly, our exchanges are very practical: we design puppets together, imagine stories to tell the children, discuss how to use Unicef's tin trunk with educational materials (distributed in these schools, but often unused), create a shadow puppet theatre, craft memory games and flashcards, design maths activities... We often work with locally available, natural materials such as stones, twigs, sand… and free materials such as cardboard boxes or old newspapers.
In what CEPP calls 'the field', their working area in the southern districts of Sindhuli, Rautahat, Makwanpur, we bond with the local community, by living in a family for a week, working together with the teachers and children in the village school, organising an intensive two-day training for about twenty teachers, also coming from the surrounding villages. Only then do we move on to the next community.
With some teachers from Jutepani
In this edition of Bikas Magazine, we will focus on two central aspects of our cooperation:
– Educational philosophy: what do you want to teach your children? – reflecting about education.
– Teaching practice: the bamboo workshop - learning from the Nepali people by attending a workshop and enriching it with our own experience.
Educational philosophy: What do you want to teach your children?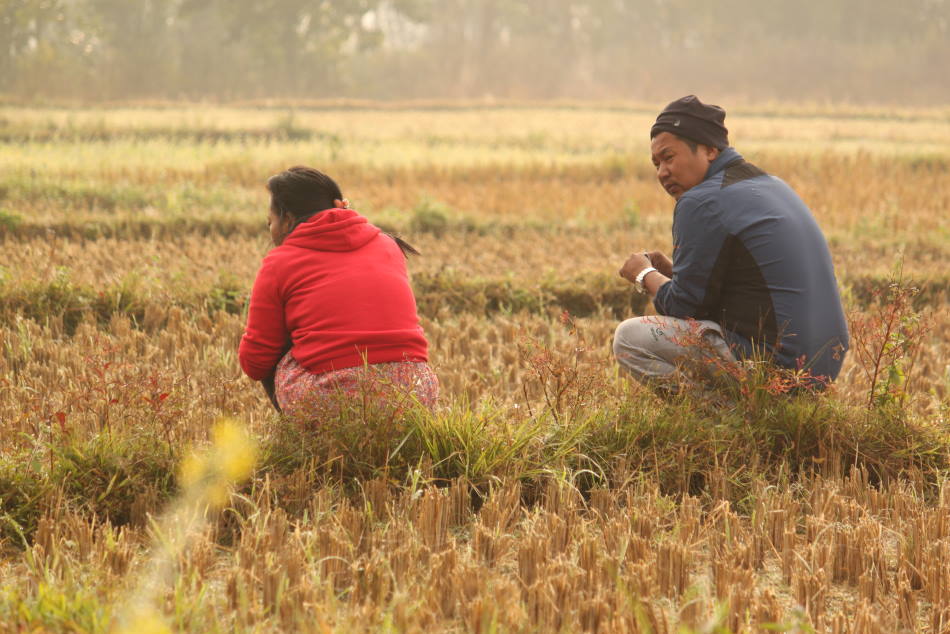 Informal consultation between Michael Rai, field coordinator and Bishnu Chepang, CEPP employee, before the teacher training.
Field coordinator Michael Rai, teacher trainer Ganesh Sapotka and CEPP fieldworker Bishnu Chepang ask the teachers what is important for them in their work and in their relationship with the pupils.
As an introduction, we express some of our personal views.
In Nepal, as everywhere else in the world, education is becoming increasingly complicated.
The information and communication revolution is reaching the country, at least in urban environments. The structure of villages is changing rapidly: a lot of work is being done on infrastructure, which signifies that formerly isolated villages will soon be connected by 'blacktop' (=asphalt) roads, and even linked to the capital city. With the roads, electricity will come, and the Internet, ànd fast food ànd tourists, ànd private (costly) education – and, certainly, a lot of confusion…
Before, on the countryside, it was more or less easy to know what to teach the children: teachers made their pupils copy the textbooks and repeat and memorize multiplication tables, the alphabet, English words etc. Children learned 'subsistence farming' from the local community. Nowadays, children may go to boarding schools in urban areas, adolescents may work in Kathmandu after they leave school, increasingly emigrate to countries in the Middle East, in Malaysia, Japan… How are we to prepare them for such a future?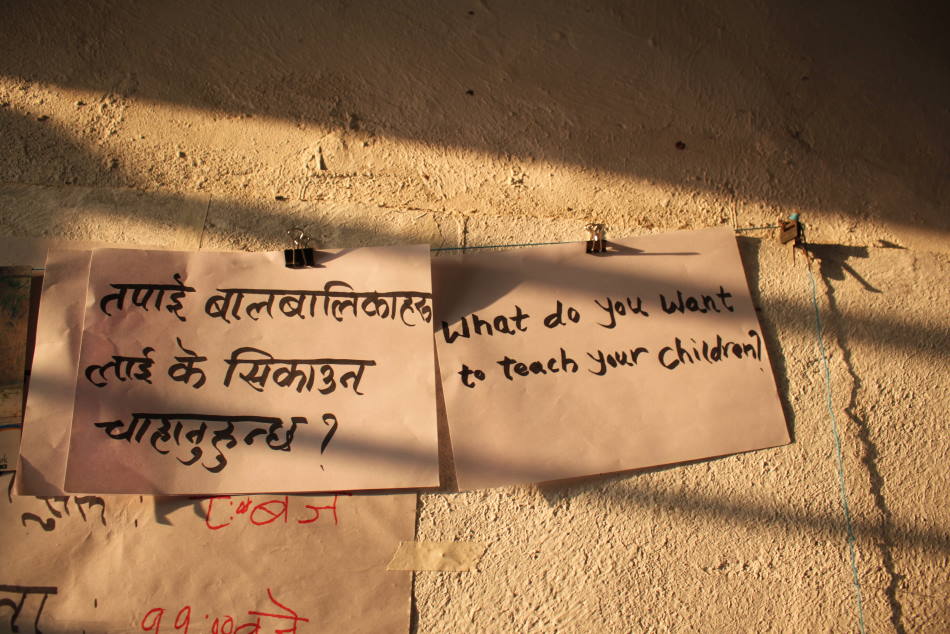 What do you want to teach your children?
The teachers write down their personal views, in the language of their choice, Nepali or English.
(You can find all their comments on the website, https://bikas.org/EN/TTR_dec18).
CEPP then discusses the answers with the teachers, in Nepali, afterwards sharing a summary with us:
Most teachers want to educate the children 'to respect the elders' and 'to love the younger', so as to become 'good and capable citizens of the nation' - aspects that are central to Nepali society ànd an educational philosophy that is promoted by the government.
Discipline is also highly regarded: pupils should obey the rules and regulations of the school.
Teachers are aware of the value of Nepalese cultures: they want to teach about the history of their language, culture and traditions, and consider how to save this heritage for future generations.
Most teachers want to share the knowledge and skills they have, such as language skills and mathematics.
Although Nepalese ways of teaching can be quite theoretical, involving mostly memorisation and repetition, and aimed at being successful in the centrally organised examinations, teachers are increasingly aware that this will not fully prepare the students for the future.
They want to make the children feel at home in the school, are concerned with their needs, likes and dislikes, pay attention to their psychology. They want to collect and use local teaching materials.
They want to teach:
• personal sanitation,
• friendliness,
• knowledge about the environment and nature,
• how to adjust to a changing world and use modern technology,
• wisdom.
One of the participants summed up his philosophy:
"As a teacher, it is my responsibility to be careful about my students. I will try to teach my children as indicated by the full form of EDUCATION: E= Educated, D= dedidated, U= useful, C= clever, A= active, T= trained, I= identity, O= Optimistic, N= Nature
We ourselves learn a lot from these exchanges. We are strengthened in our belief that education is inspired by values, attitudes, skills and knowledge are equally important. Children are most receptive to this when they feel happy. We hope that this kind of reflection will encourage teachers to create happiness and future prospects for the pupils.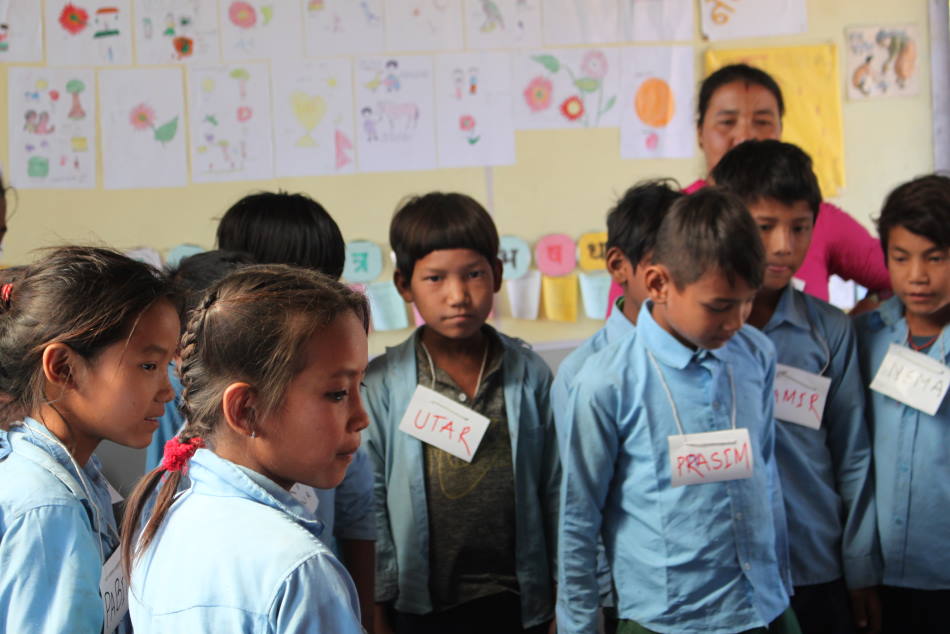 Happy Children
Teaching practice: the bamboo workshop
Michael Rai invites us to visit the Shree Janahit Basic School, in Ratamate, Makwanpur District
There he organises a 'bamboo workshop', based on the following observations:
• In the villages, (teenage) girls are not used to handling (what Michael calls) 'weapons': tools such as hammers, saws and knives. That is mostly reserved for the boys. Handling these tools can give the girls more self-confidence and improve their skills, emancipate them and gain them respect.
• In the schools, there is often a class filled with waste materials: construction wood, broken benches etc. Re-use of materials is not common.
• The Temporary Learning Centre (TLC), a makeshift class constructed after the earthquake, and made of bamboo poles and bamboo strips has fallen into disuse. The bamboo strips could be re-used to create cabinets that could hold books or teaching materials.
• Local people can share their skills: parents skilled at woodworking can be engaged, thus gaining more respect from the teachers and creating a stronger bond between school and local community.
We observe Michael's bamboo workshop, admiring his patience, social and practical skills – admiring the perseverance of the girls and the way all participants clearly enjoy the activity and
learn at a fast pace!
We ourselves want to introduce bamboo as a play and learning material, inviting students to cut bamboo poles to different lengths and use
• the poles for physical education,
• the shorter pieces as 'loose materials', intended for non-directed, open-ended play, stimulating them to discover the properties and learning opportunities of these materials by themselves,
• the bamboo to stimulate their imagination and creativity.
It was such a happy and interesting day!
If you want to support CEPP in its efforts to create a happy, child-centred educational environment, your contribution is welcome on Bikas' account BE32 2200 7878 0002. Please mention 'From School to School' or 'Friends of Paul and Carine'.
Thank you very much!
Paul Beké, Carine Verleye
---
---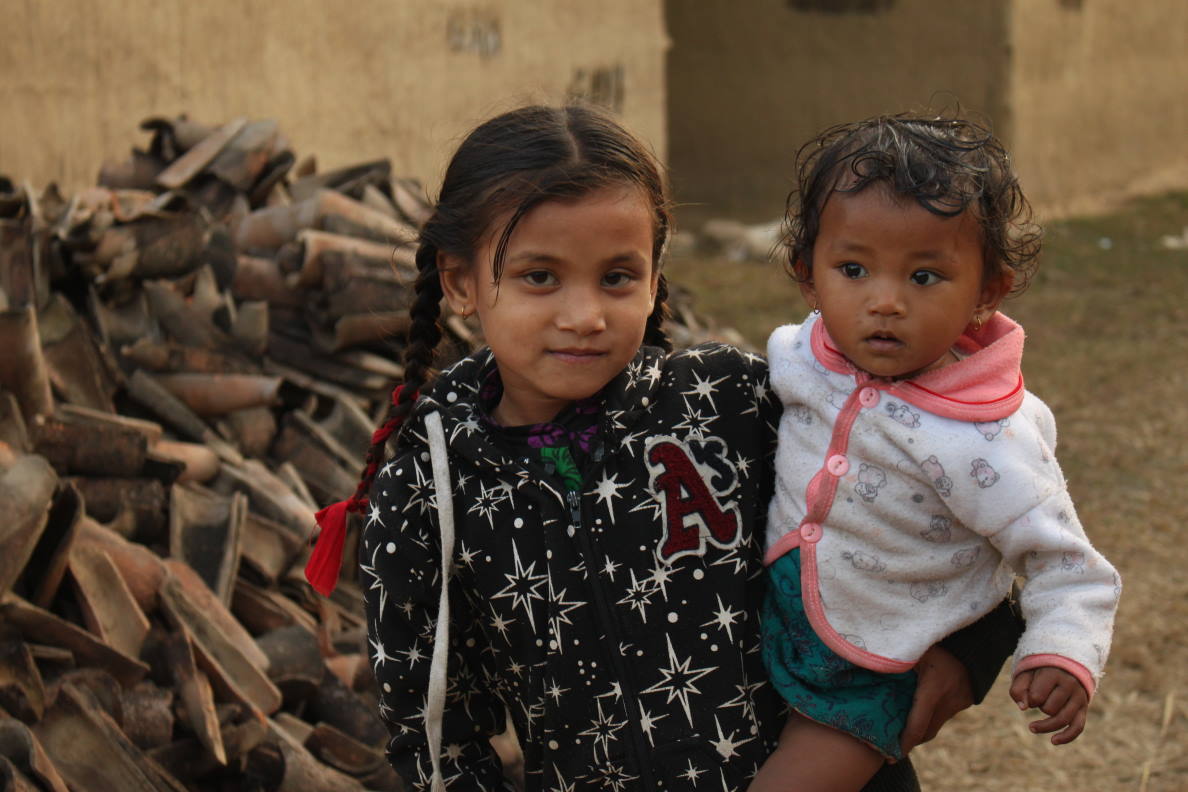 Parlisa is just 7 years old. She lives in Nepal's Inner Terai, where the plains start to give way to the mountains.
August 2019
Her village is called Jutepani, and she goes to the local primary school.
What will her chances be in life?
Her teachers have received little training, and education is often restricted to rote teaching: the children repeat what the teacher says and copy their textbooks, without understanding.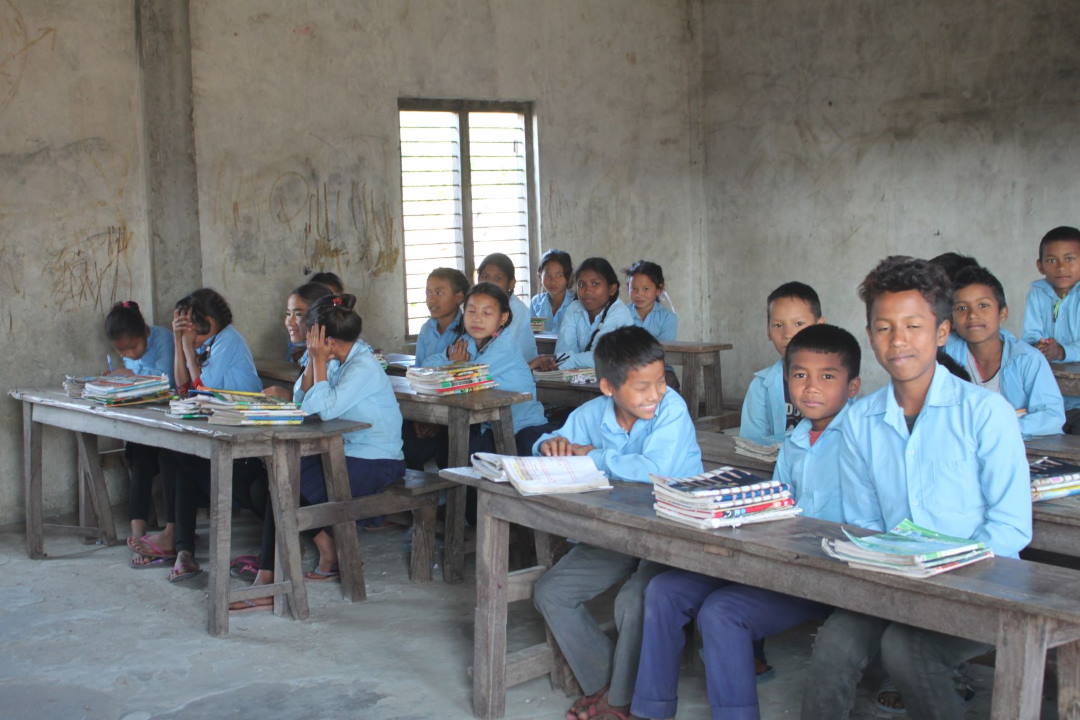 After finishing Class 5, Parlisa will probably go to the secondary school in the neighbouring village of Hakpara.
There are hardly any pedagogical materials in the schools, classes are bare and the schoolground is uninviting.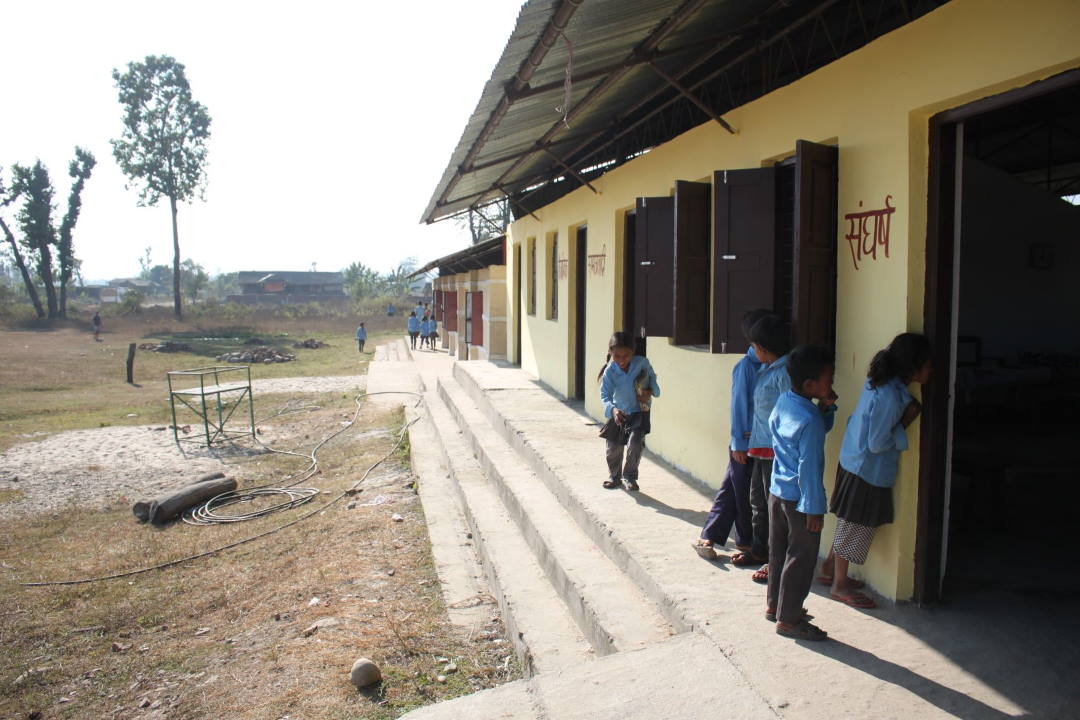 The school and playground at Hakpara.
It is in this poor and relatively isolated area that HE Space Children's Foundation wants to support education. We will work together with a Nepalese NGO, the Centre for Educational Policies and Practices, that regards education as the 'great equalizer' in society. CEPP wants to motivate, support and train teachers, make parents aware of their rights, improve teaching conditions and influence local and national educational policies.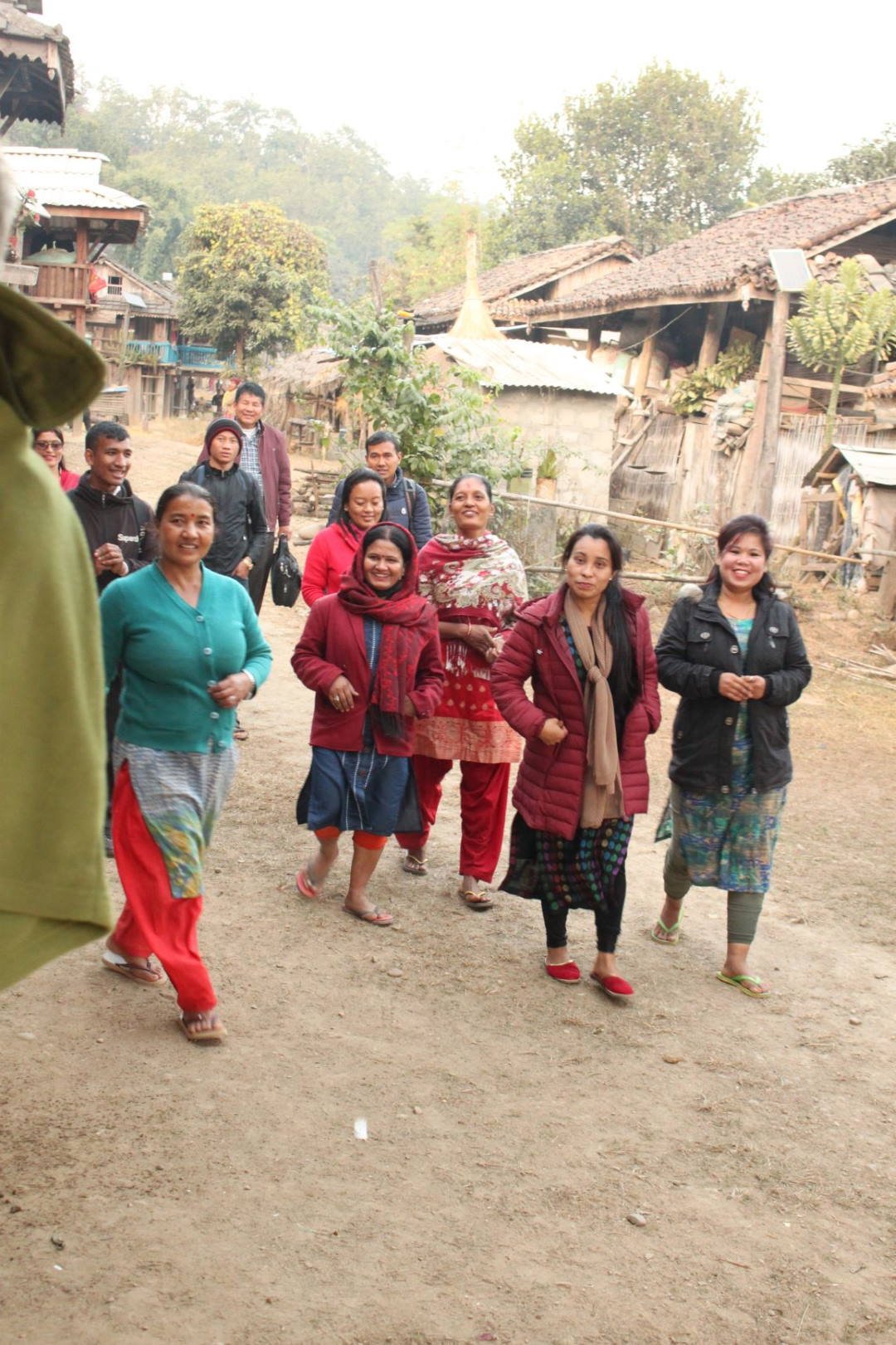 Teachers from different schools in the area on their way to a CEPP teacher training in Jutepani.
Together with CEPP (
https://schoolingnepal.wordpress.com/
) and (
https://www.facebook.com/schoolingnepal/
), HE SPace Children's Foundation has committed itself to make classrooms more child-centred, to develop natural playgrounds and coach teachers, parents and pupils alike.
The programme will be carefully monitored by the Belgian non-profit organisation BIKAS, that has 30 years of experience in supporting Nepalese development projects.
The programme's evolution can be followed on
https://bikas.org/EN/from_school_to_school
, where regular updates will be posted.
Pheri Bhetaula! (See you soon)
---
---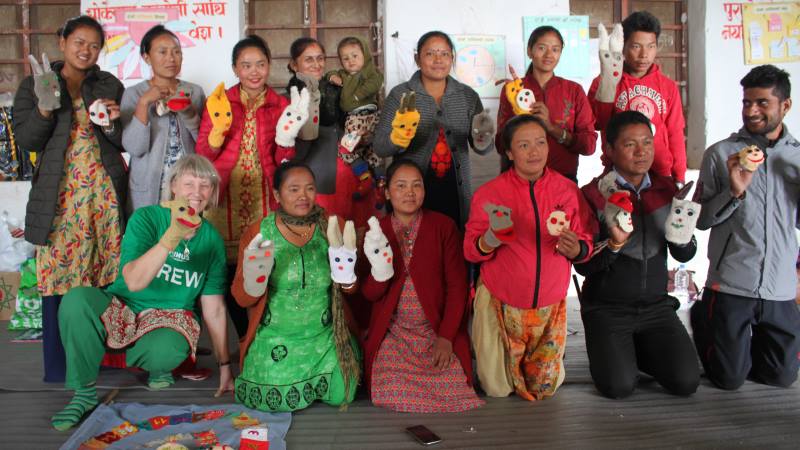 January 2019
Between November 17 and December 29, we took a six-day holiday and spent five weeks 'in the field', in the remote villages of CEPP's working area. We lived with the people, immersed ourselves in education, worked together with teacher trainers Michael and Ganesh from CEPP, with Bishuman and Dil Chepang from Little Flower Society, with teachers, children and parents. We gave training in Neupane (Tamang village in the district of Kavre), Chhap (Sindhuli), Bharta (in the Chepang Hills, Makwanpur), Navodaya School (free education and boarding school for children of the Chepang minority in Tandi, Chitwan), Jutepani ( Sindhuli), Raigaun (Makwanpur). We were able to document the schools in this area for the students of the teacher training college at Erasmus Hogeschool Brussel and Odisee Hogeschool Brussel, who start their internship in Nepal at the end of January.
Continuity is important for these schools, for our CEPP partners and for us, and we believe that this prospection allows us to support students to work in the field as effectively as possible.
Thank you all for your trust!
Together with the people from the Brick Children School and the Cerebral Palsy class, we developed colorful velvet fishes, a tactile book and a tactile blanket for the children with CP.
Networking is also important in Nepal itself. We brought Puja Dunghana (https://bikas.org/EN/node/10), who is now 18 and works as a motivated temporary teacher in Neupane, in touch with CEPP and with the Brick Children School. We hope that these contacts will encourage her.
CEPP and the Brick Children School are determined to work together. Many families from Sindhuli, Rautahat, Makwanpur go to the brick factories in the dry season. They take the smallest children with them. After their time in the Kathmandu valley, it is often difficult for the children to reconnect with the education in their own village. In essence CEPP and the Brick Children School work with the same children and both organizations can support each other.
CEPP is also willing to help the new schools in Haku, Nesing and Khadbari in their pursuit of quality education. They want to set up a training activity called 'training level zero', an analysis of the initial situation on a pedagogical level, with accompanying advice, and a motivation programme. Then they will pass on the details of skilled teacher trainers.
We ourselves have evolved from 'teacher training' to 'teaching exchanges', in mutual respect.
We are guided by a number of principles, which we also share with the people in the field:
The purpose of education is to create a happy environment in which children can be themselves and can evolve in a positive way.
Through education, we can pass on knowledge, skills, attitudes and values.
We can achieve it in a formal way: by grouping children in a school environment. Their grandfather can teach them a skill, their mother can teach them to respect their siblings, the shopkeeper can teach them to be careful with money, the neighbour can teach them to love plants and animals...
Education happens everywhere, not only in a formal environment like a school, and anyone can be a teacher: anyone can teach children the things he / she is enthusiastic about.
Whenever we start a workshop, we tell the participants:
"We would like to organise a very practical workshop. The aim is to have a real exchange, to share ideas. We respect your autonomy and the fact that you and the teachers / educators / medical people / parents know the children best, you are responsible for them day to day.
We think our contribution can be valuable because we have a long life experience and teaching experience and because we are interested in Nepalese people and the different cultures in Nepal.
We also want to learn about you and learn from your skills and knowledge.
We hope we'll have a good time together :)"
Our time in Nepal was intense and happy, as is apparent from the following photos: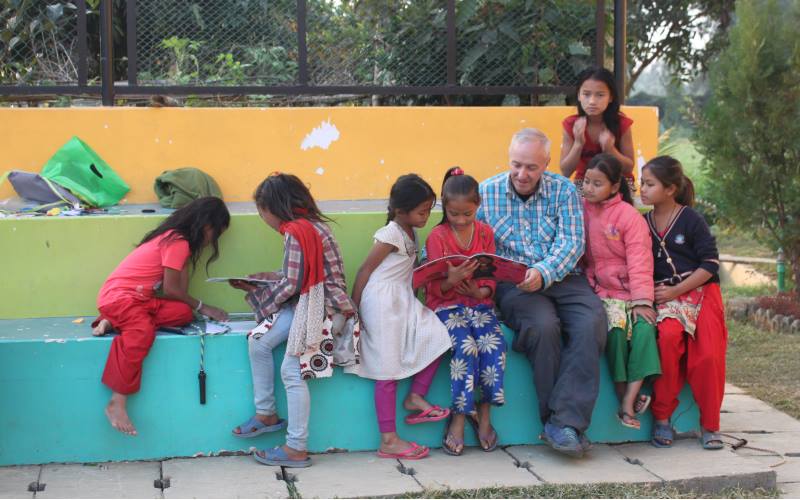 Reading promotion in Navodaya School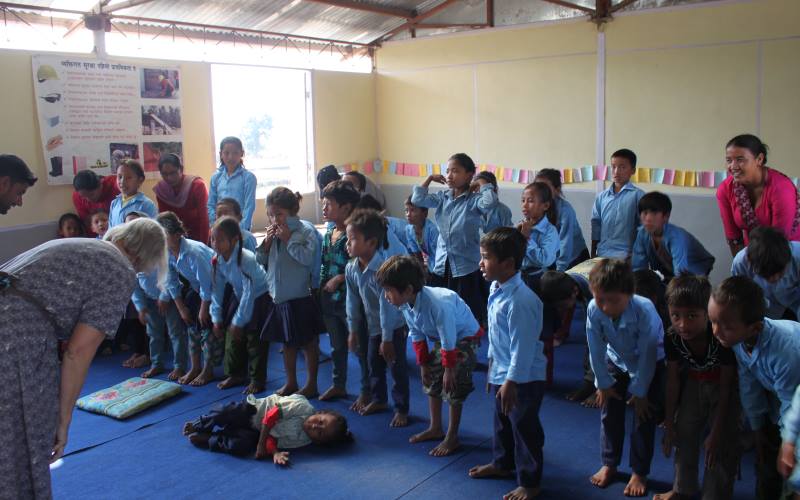 Teaching a song: Head and Shoulders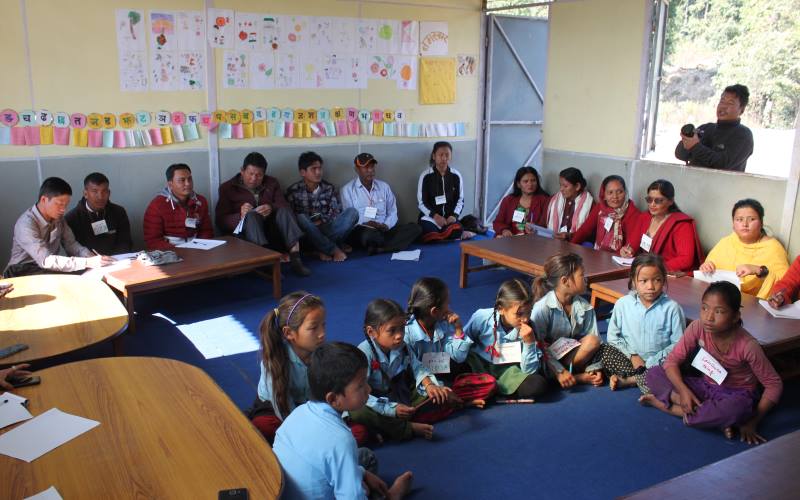 Teacher training in Jutepani - the children participate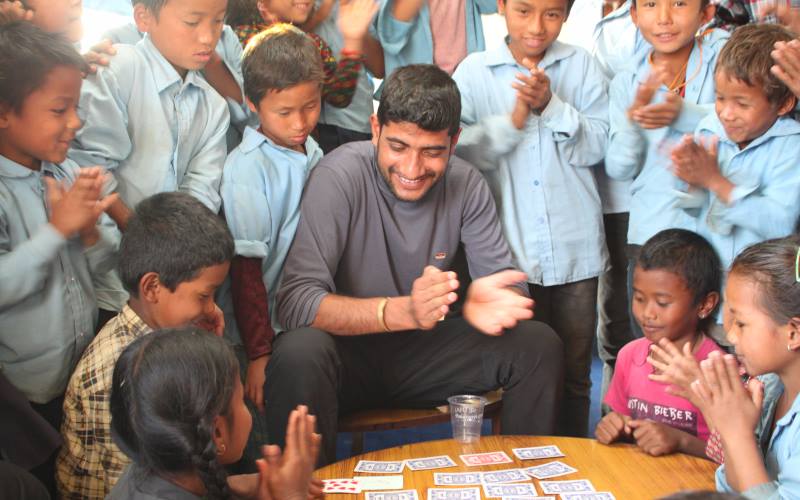 CEPP Teacher trainer Ganesh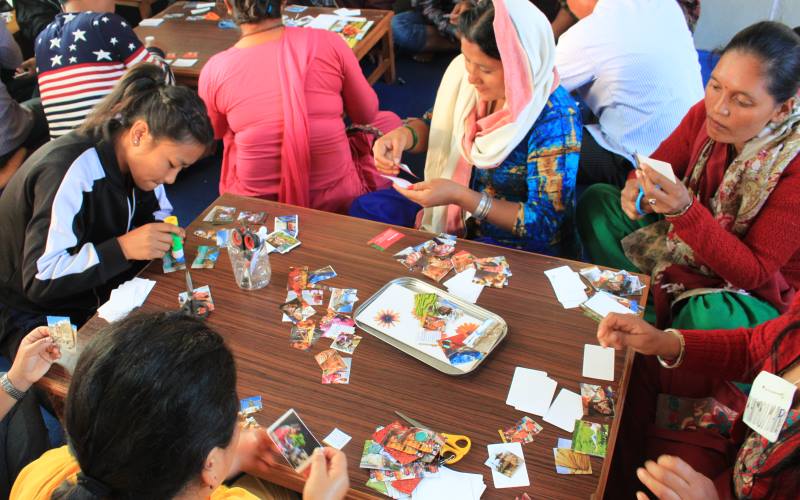 Memory games, flashcards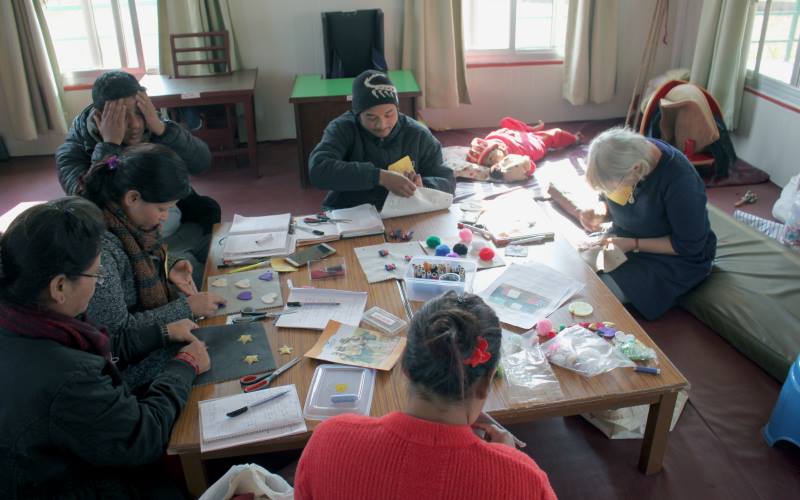 A tactile book for the children from the CP class
Do you want to support the efforts of CEPP to improve the quality of education in rural schools? This can be done on the account number BE32 2200 7878 0002 from Bikas, with the mention 'From school to school' or 'Friends of Paul and Carine'.
Thank you in the name of the children!
---
---
[ Published previously ]
November 2018

August 2018

April 2018

January 2018

October 2017

July 2017

April 2017

January 2017

October 2016

July 2016

January 2016

---