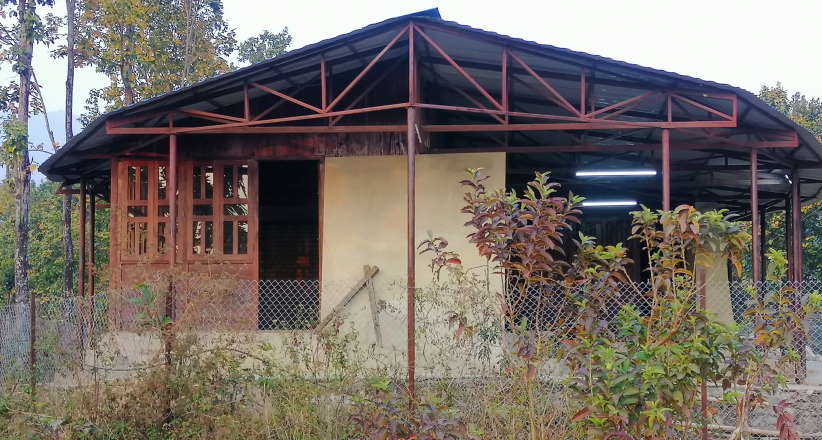 Photo 14: The school at dusk, the lights are on!
May 2022
In previous issues of the Bikas magazine we already discussed the functioning of one of our partners in Nepal, CEPP.
CEPP – Centre for Educational Policies and Practices – aims to guarantee the right to primary education by improving education policies at all levels, especially at the local school level, making use of existing facilities. They represent a comprehensive education policy in Nepal, an education policy sensitive to social, cultural and environmental issues and relevant to the community. They work closely with local communities, politicians, teachers and children, they do a lot of field work and they have a good and long tradition of working with volunteers of all kinds.
Since 2016 CEPP, the architecture course of KUL in Ghent, have been working closely together with a number of architects and educators. They want to develop a school project in Nepal that, in addition to its traditional function as a place to gather and share knowledge, also tries to fulfill a community function within the village. In this way we try to achieve a higher involvement of parents, pupils, teachers and school board in school activities as a whole.
An eventful period
The last full report of the construction works in Chapp dates back to February 2020. We all know what has happened in the meantime and the project in Chapp has also been delayed due to this.
After our departure (the volunteers, teachers and students) the local people continued to work hard to finish the school building
Completion of the joinery and structural work
Initially, the wooden walls and the joinery (the windows and doors) had to be completed.
Both new and recovered sal wood were used for this. As you can see in the photos, a large part of the work was done manually, including sawing the beams into planks for the cladding of the walls.
The specific shape of the roof gives the building its character and appearance, but also creates the expected challenges in the finish. Sal wood was used as a finish for the outside of the walls, the inside of the walls was finished with painted plywood sheets.
The walls were filled with a mixture of rice-husk, cement and water. This filling ensures that the walls are windproof and have an insulation value, albeit limited.
[Photo 01 to 04]

Subsequently, the raised 'pati' around the school building was completed. After providing a retaining wall, made of boulders and cement, the stairs could be built, ramps could be provided and the whole could be finished with natural stone tiles.
The Pati wraps around the classrooms and functions as a play area, an access zone and a transition between the classrooms and the surroundings.
In this way, the school building is at 'seat height' above its surroundings (safe from heavy rain and water). In this way, the pati also absorbs the largest differences in height with the environment and makes the classes easily accessible.
[Photo 05 to 07]

Finishing the interior
The last design decisions regarding the interior and the furniture were made of necessity via online meetings and many emails with diagrams and drawings.
An extra site visit in 2021 was not yet possible, and the workshops with architecture students from St Lucas / KUL could not continue for the time being.
To finish the ceilings, large mats were woven by a craftsman from the village.
The combination of the (industrial) steel of the roof construction and the bamboo mats gives a distinct result.
[Photo 08 to 10]

Work continued on the interior as well. A traditional cooking area was built in the kitchen class. Traditional except for one important detail, this cooking area has a fireplace, integrated into the concrete wall, directly outside!
To give the storytelling class the right atmosphere and warmth, the floor here was finished in wood, and a raised plinth in wood was provided against the sides, as a 'back' for the seated children.
In addition to this wooden finish, the storytelling class also received a wooden library cabinet. Keep the stories and legends coming!
[Photo 11 to 14]
The school in use
The school has been used during the past months, but the intention is of course that the building will be completely finished before it is officially handed over to the village and the school board.
Still on the program: the last painting works, limited works on the electricity and lighting and a table and benches for the agricultural class.
The photos in this publication were taken by the employees of CEPP, but we (volunteers and teachers KUL) hope that in the near future we will be able to visit the finished building ourselves to view and photograph the finished building.
Due to the close cooperation with CEPP, Bikas and the teacher trainers Carine Verleye and Paul Beké, we are sure of the educational support of this project in the future.
We are all curious about how the building will be used, and what we can learn from the experiences of trainees, villagers, teachers, students and volunteers.
If you also want to contribute to the Kalidevi School Project, you can do so by making a deposit to the number BE32 2200 7878 0002 of BIKAS non-profit organisation, stating 'From School to School'.
ar. Wart Thys.
This project is a collaboration between four teachers from the KUL: Ignaas Back, Klaas Vanslembrouck, Hilde Bouchez and Tom Callebaut; two teacher trainers, namely Carine Verleye and Paul Beké; architect Wart Thys and graphic artist Lin Seminck.
---
---
February 2022
Motivated teachers, a warm and beautiful classroom, a fun playground... All of this contributes to a child-oriented, happy school environment. Our partners at CEPP, the Centre for Educational Policies and Practices, support rural schools to achieve these goals.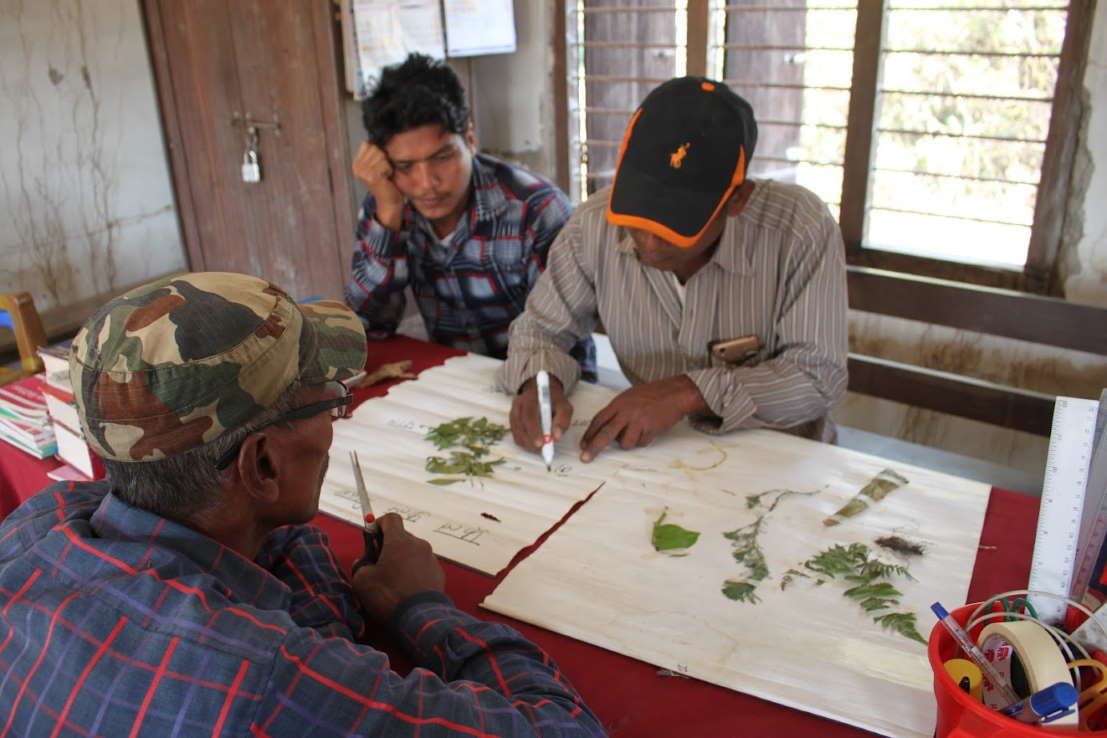 Padma and his colleagues, educators in Jutepani, Sindhuli District, make their own teaching materials. They want to teach the children more about the local flora.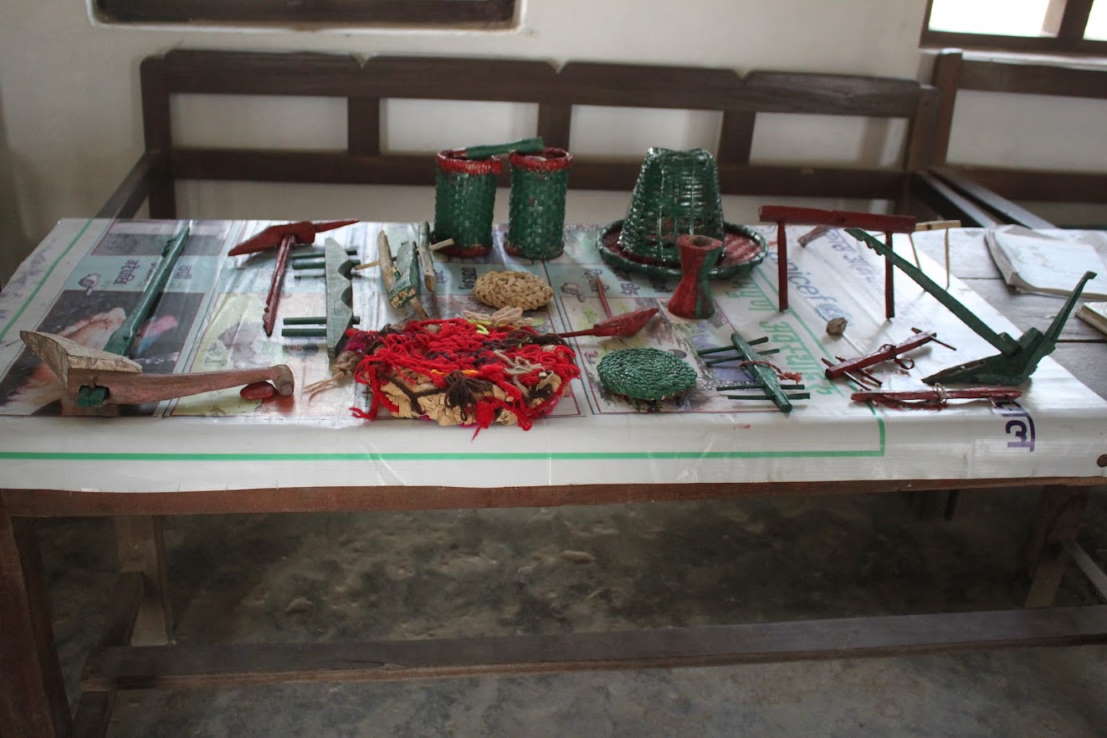 Teachers from Hakpara, Sindhuli, paint mini versions of traditional farming tools to educate the children about their own living environment.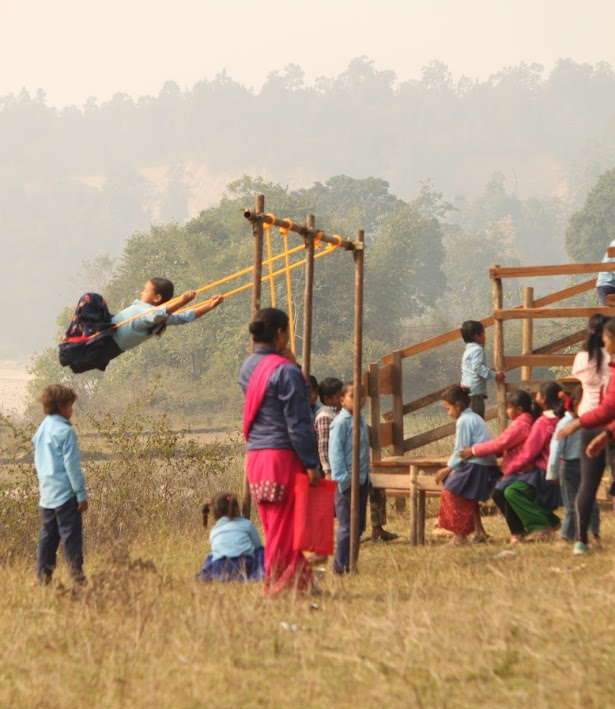 The playground motivates the children to get to school on time... Photo from Jutepani, Sindhuli.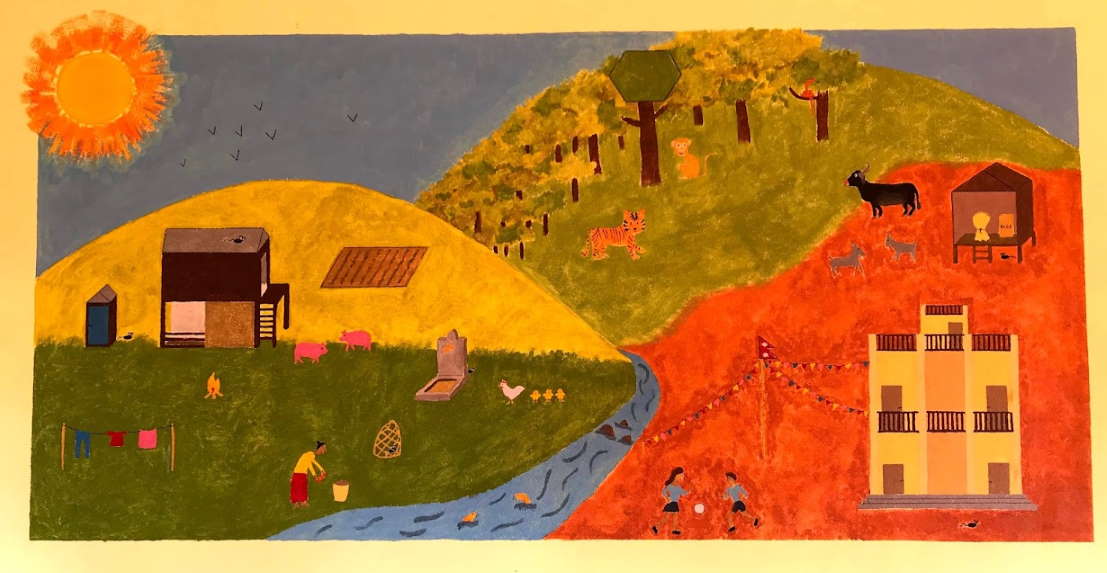 'From School to School' is also a collaboration between Nepalese educators and Flemish colleagues. In January 2020, Lore, Elisa and Astrid, students of the teacher training department at Erasmus Hogeschool Brussels painted this landscape in the second grade in Simras, Sindhuli. It is a faithful representation of the school environment in the village and helps the children with topics such as math, recognizing domestic and wild animals, naming colours, and telling about daily life.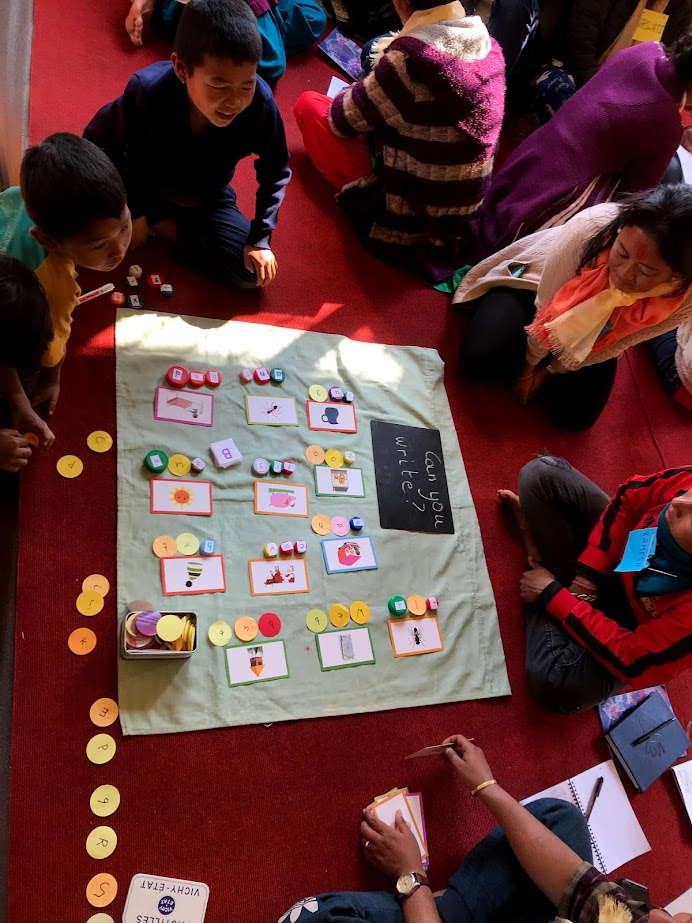 CEPP employees and the children of Simras are all attention during a training activity.
You probably feel motivated to help CEPP and rural schools to improve the quality of primary education.
Your donation on BE32 2200 7878 0002 from Bikas non-profit, with 'From School to School' as mention, is a much appreciated support!
---
---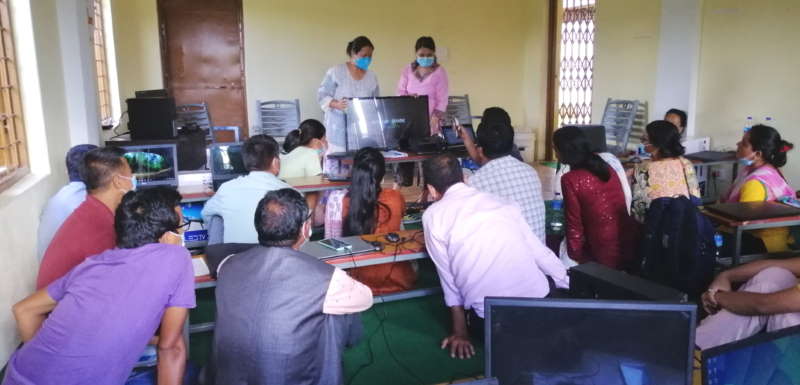 November 2021
The digital age?
In rural areas of Inner Terai - the field of CEPP, the Centre for Educational Policies and Practices - the computer was not present until now. Digital literacy, part of the school curriculum, was taught... on the blackboard. At present, a real revolution is taking place: the ongoing construction of major highways brings the modern world closer, with new opportunities ánd needs.
Furthermore, due to corona and the associated lockdowns and closures of schools, the government was forced to focus on digitization and distance learning - not an obvious choice, especially in poorer environments.
CEPP fieldworkers therefore initially focused on teaching in small groups, in the open air.
In rural government schools, digitization is often limited to the introduction of a computer, without the associated necessary training on its use.
Making use of the lockdown period, all CEPP staff were first given a comprehensive action-training. They then developed an introductory course in English ánd Nepali.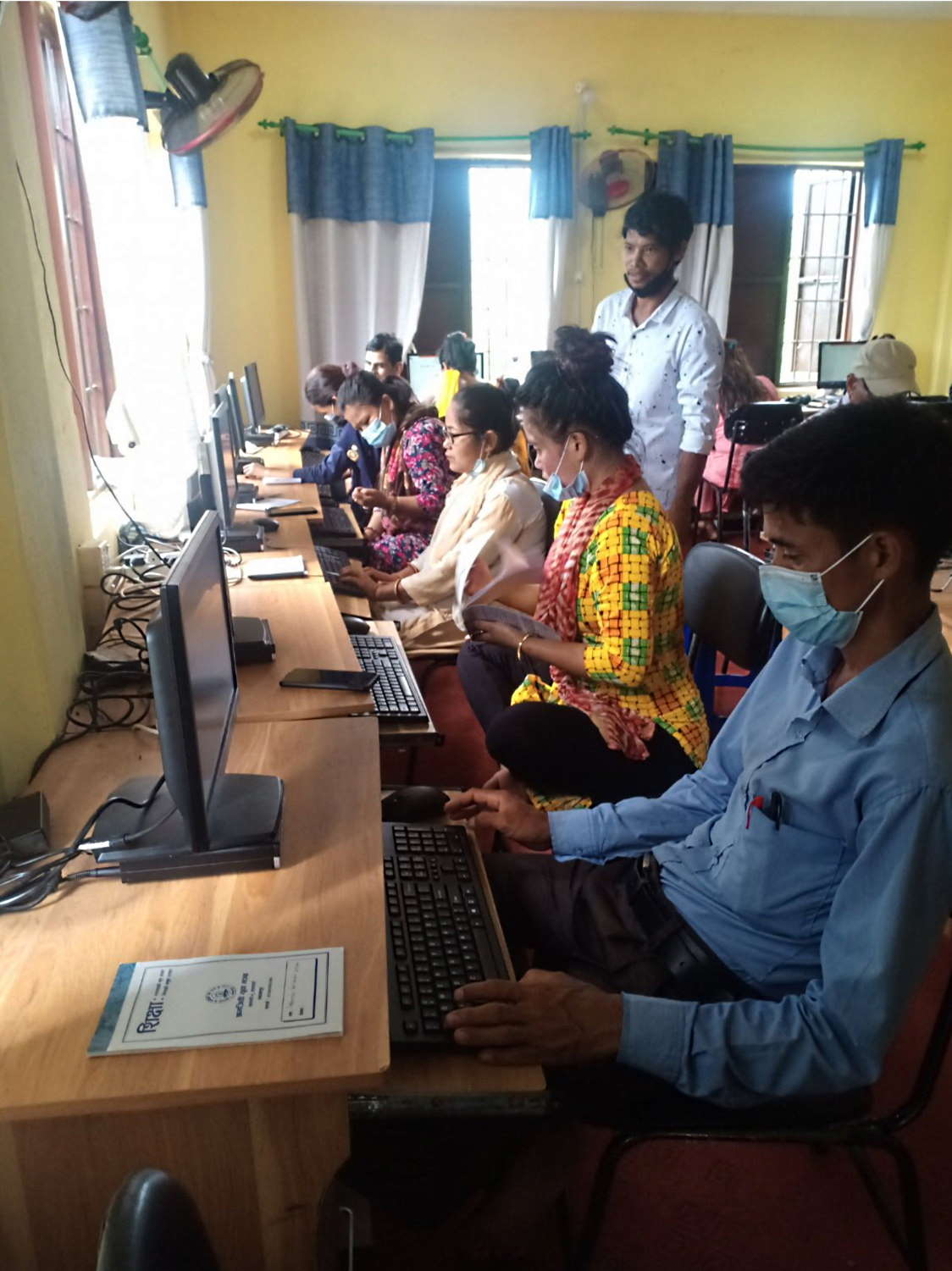 90 teachers enthusiastically participate in the practical training.
Thanks to BIKAS and HeSpace Children's Foundation, the local Municipality then handed over some additional sets of smart TVs to trained teachers, something which is not done by many donors. Computers are often left underutilized as teachers don't know how to use them properly.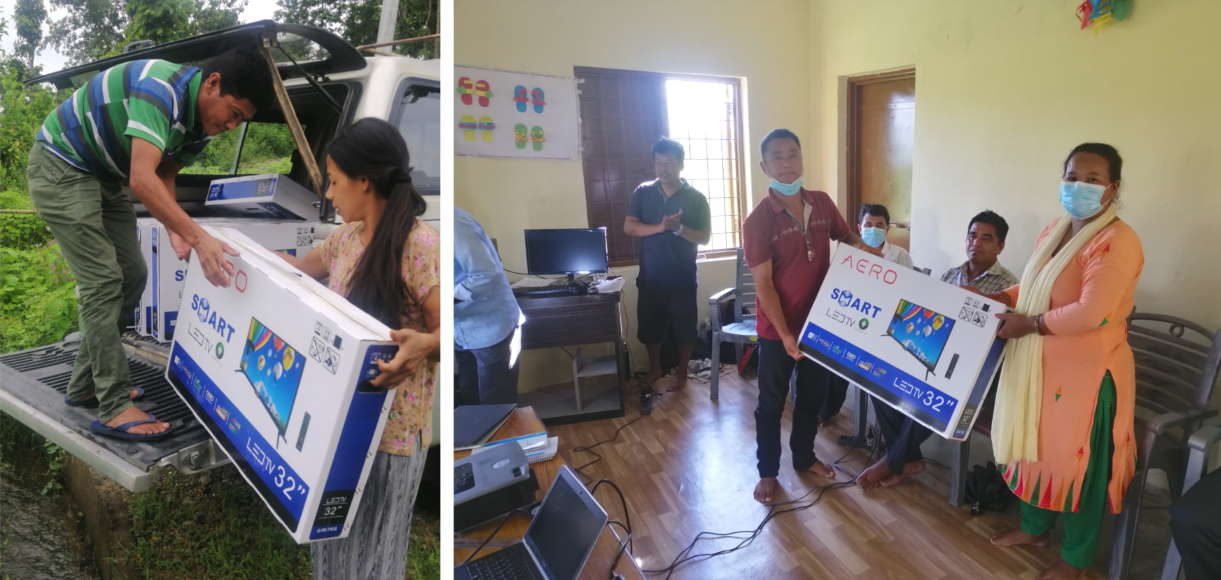 Following the training, the Municipality hands over a smart TV to a trained teacher.
CEPP therefore wishes to organize follow-up learning opportunities, for example about the free digital lessons for the different grades that the government is providing (www.olenepal.org).
These activities can now even be used off-line, by downloading them to a pen-drive that can be transported physically - as there is no Internet connection in all the schools of the area yet.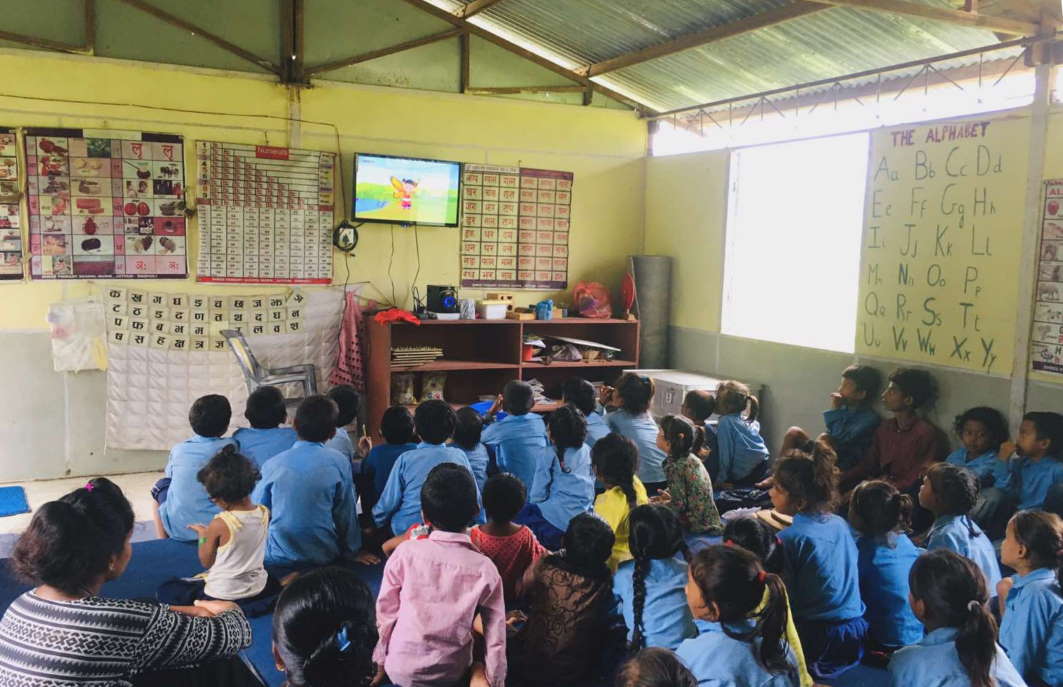 Children are quite interested in this new way of teaching and learning! Please also notice the orderliness and child-centred design of the classroom: floor sitting, use of educational posters and teacher-made materials.
Integrated teaching
The Nepali government has chosen the path of 'integrated teaching': instead of teaching different subjects separately, teachers will integrate subjects around a theme chosen. This is new for developing countries like Nepal. CEPP is contributing to the effort by promoting the greening of schools and by teaching life skills to students of Class 6, 7 and 8. Promoting self-awareness about the changes in adolescence and handling emotions at that stage is the main focus. The purpose is to prevent early marriages and help teens to continue schooling to higher grades, a stance also supported by the government and by Unicef.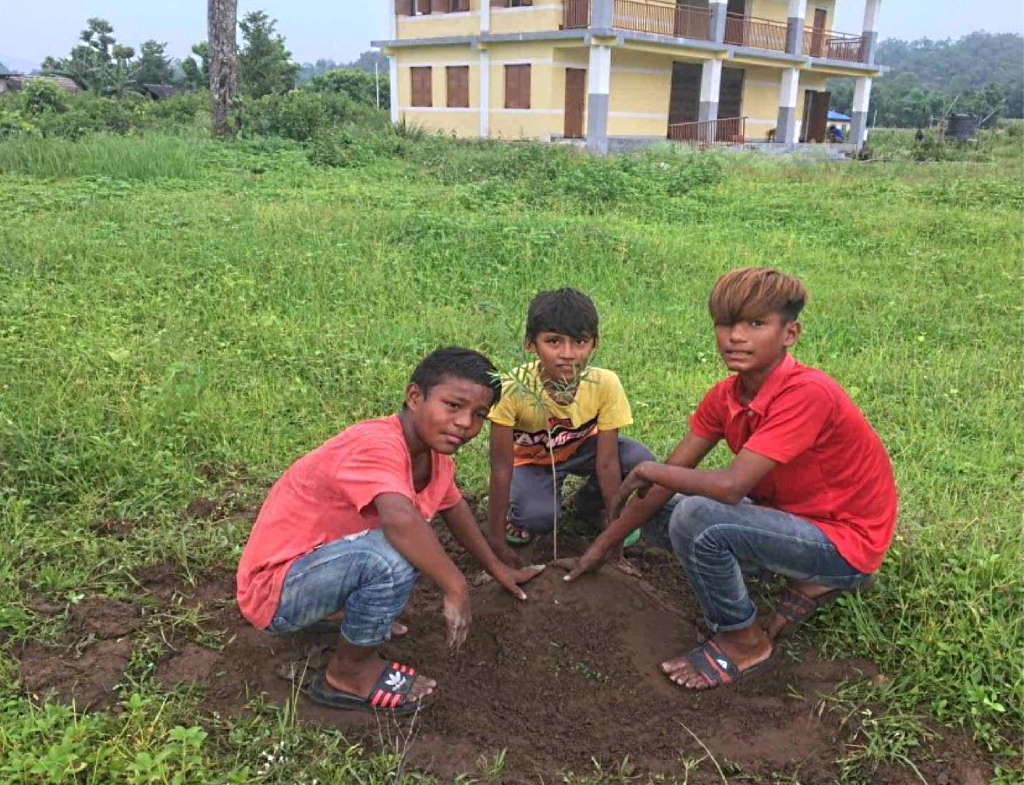 Pupils plant trees for shade

Adolescents do exercises and watch videos illustrating the choices made by their peers.
Emotional well-being
During the later days of the lockdown, staff visited the families to check how they were feeling and how the children were doing. Children were busy with household work and playing. They were not as stressed as in urban areas but longed for school to start again...
Providing quality education goes a long way beyond a suitable school building: the motivation and well-being of all participants in education are equally important. These are but a few of the initiatives CEPP has taken in recent months in its cooperation with rural government schools in Sindhuli and Makwanpur District, the hilly areas south of Kathmandu and north of the Indian border. We will document further efforts in the next issue of this magazine! Please take a look at our earlier contributions on the BIKAS website too (https://bikas.org/EN/from_school_to_school)
Your donations on the BIKAS account BE32 2200 7878 0002 are much appreciated and well-used. Please mention 'From School to School'.
Thank you very much!
---
---
July 2021
Improving the quality of education is central to the functioning of CEPP, the Centre for Educational Policies and Practices.
It is sometimes difficult for us to fathom the real state of education in Nepal.
In this Bikas issue we therefore present some points of view from an article by Binod Ghimire, who reports on human rights, social justice and education in the newspaper 'The Kathmandu Post'. We confront these views with the experience and the expertise of Teeka Bhattarai from CEPP.
'School dropout remains a challenge, survey report shows' (Binod Ghimire, The Kathmandu Post, 31 May 2021)
Despite an increase in enrolment, a high dropout rate remains a challenge in education.
In 2013-14 the enrolment rate for Grade 1 was 91%. According to the research report, that has now risen to 97.3%.
However, the government's economic survey report unveiled on Friday shows that more than two-thirds of students enrolled in Grade 1 leave the school system before reaching Grade 12, the final year of school education. The retention rate to Grade 10 is also poor: out of 100 students, 36 leave before reaching Grade 10.

Education experts believe that poverty is the main reason, as parents from poor communities often have to use their children's income to support the family. The low education of the parents is another factor. The lack of a good school infrastructure and a poor learning environment are also responsible for higher school drop-out rates.

Although the Ministry of Education, Science and Technology receives the highest budget, more than 85% of it is spent on the salaries of teachers and school staff, while only a small part is allocated to materials and improving the quality of education.
"Adequate budget is still lacking, especially in the post-Covid situation," says Bal Chandra Luitel, professor at Kathmandu University. "Students' learning performance was not the same during the pandemic. Reducing drop-out and improving quality should have been the government's priority. Also, the necessary programs to promote learning activities during the pandemic are lacking. To this end, the federal government will have to work closely with local and provincial authorities."
'What about the quality of education?' (Teeka Bhattarai, CEPP, 4 June 2021)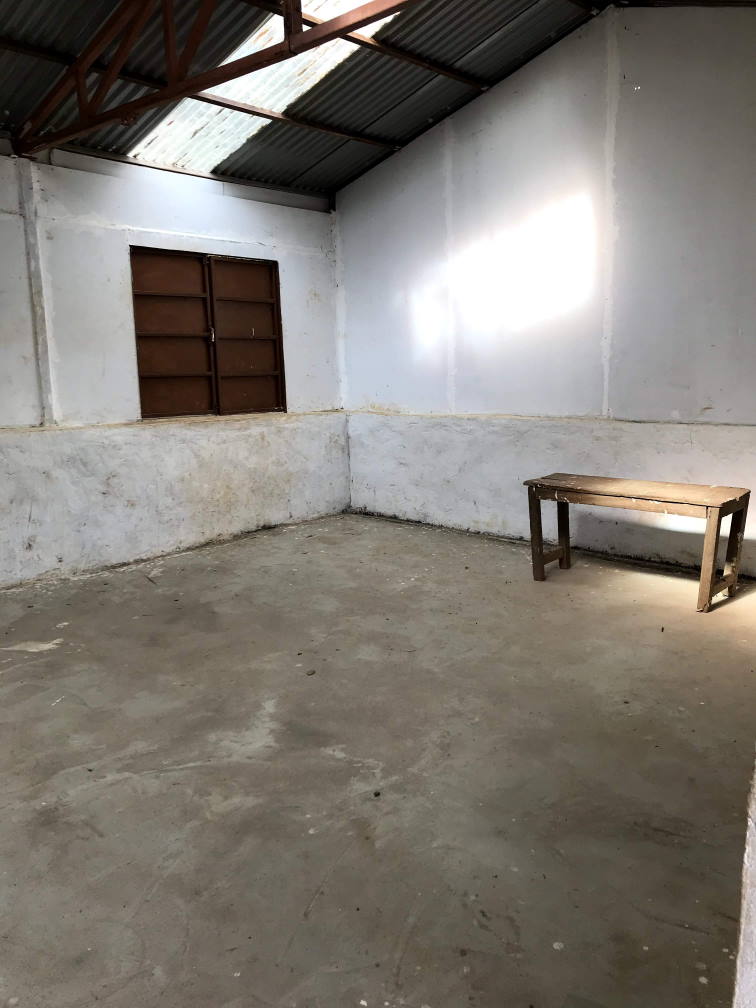 A classroom like this is no exception in the countryside.There is no school furniture, no didactic decoration. This situation points to material poverty, but also to a lack of motivation on the part of the teachers and a lack of involvement of the local community.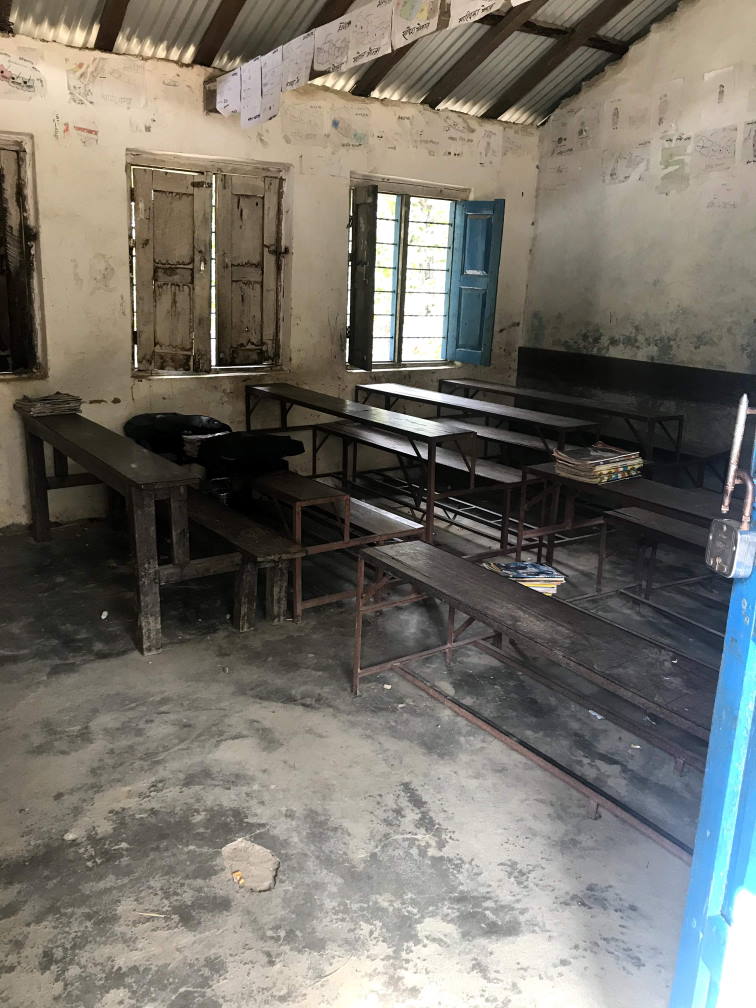 Improvement is slow. The classroom is neat, there are benches and the teacher has exhibited drawings of the children, a sign of appreciation.
Teeka Bhattarai, education activist and initiator of CEPP is critical towards the conclusions of the survey report and the opinions of the journalist:
"Mostly the parents are blamed for their ignorance, or poverty, disregarding the fact that they are well aware of the value of quality education and are concerned about the future of their children," he says. "These opinions are common and have been around for a long time. This is the escapist narrative against which we have been struggling. The reasons mentioned or the narrative used are only marginally true," he adds.
"The government takes education seriously only in rhetoric. The government policies are infrastructure-oriented and the system runs inefficiently. There is a big shadow of private schools.
Private schools thrive on the failure of public schools; children of the policy makers and other influential people including most teachers attend private schools…
The popularity of private schools does not encourage the teachers from the public schools to do well; neither does it put pressure on them. Public school teachers are paid by the government, but they are not held accountable for their own performance, or for the success or failure of their students. The quality of education offered by many teachers is low, a fact for which they are only partly to blame, because their training is theoretical and disregards the reality of rural communities or ethnic minorities. The poor school infrastructure and lack of educational resources in remote areas add to the problem. There is little stress on lower grades and the local cultures and languages are not valued or taken account of in the school curriculum. Worse even, children who speak other than Nepali are discriminated both by the system and the teachers… Teachers come from a relatively well-to-do background and the parents often come from a poorer background – their concerns or reactions are not counted.
Yes, schools are not interesting for children also for all of the above reasons.
In truth, the main reason for dropout is that public schools don't deliver quality for whatever is spent…"
Ani ke garne? (What to do?)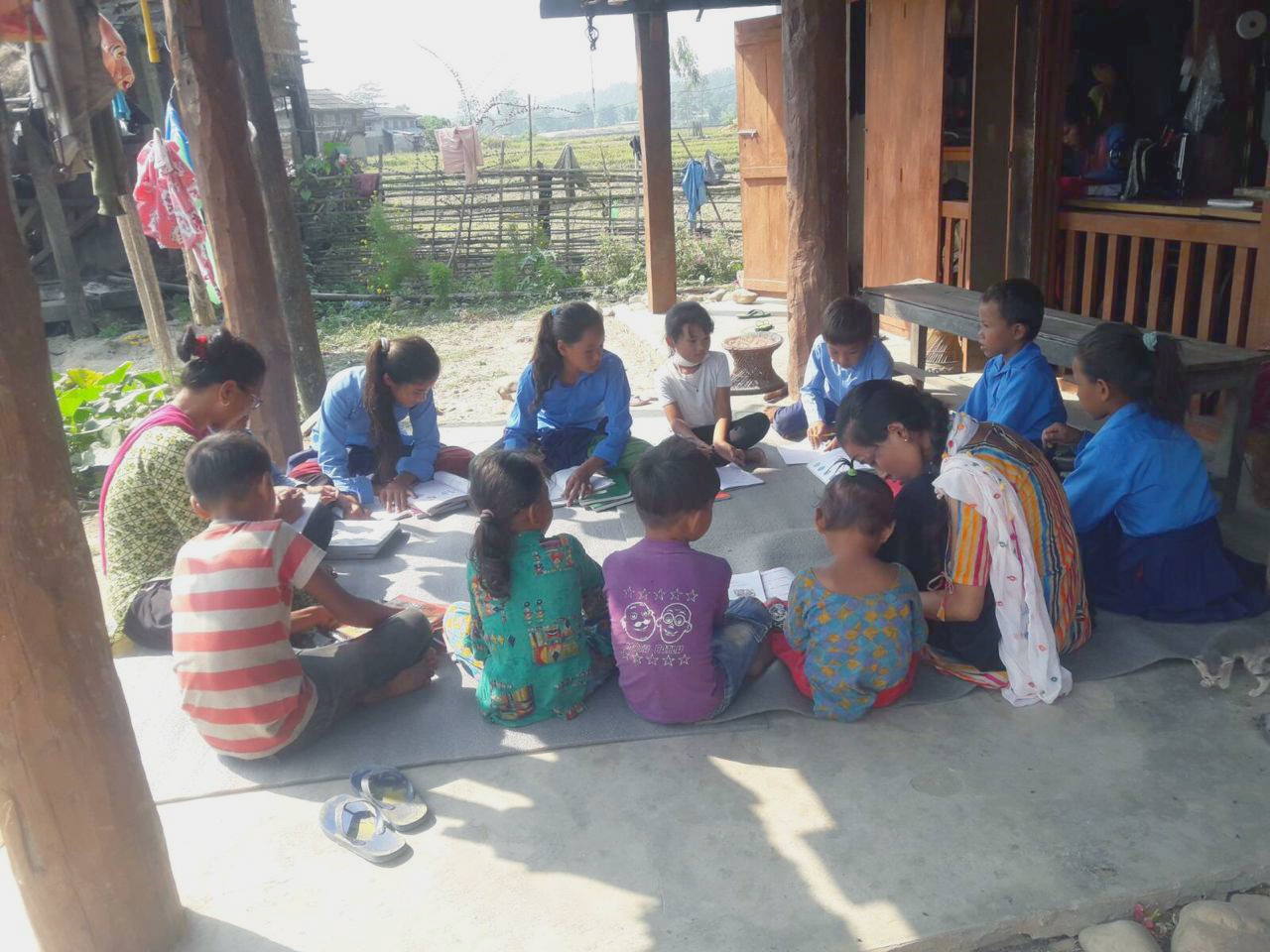 As long as the teacher is motivated, education can happen anywhere. During Covid, parents invite teachers to teach outside their house.
To improve the quality of education in its working area, the rural districts of Makwanpur and Sindhuli in southern Nepal, CEPP, in cooperation with the government schools and local municipalities
– focuses on ECD (Early Childhood Development, nursery school) and the lower grades, which are at the basis of education and lifelong learning;
– values the local cultures and languages;
– motivates and trains the teachers, paying special attention to child-centred learning environments;
– informs the parents about their rights and encourages them to become active members of SMCs (school management committees);
– takes part in the national debate about education and wishes to influence educational policies, both at the local and national level.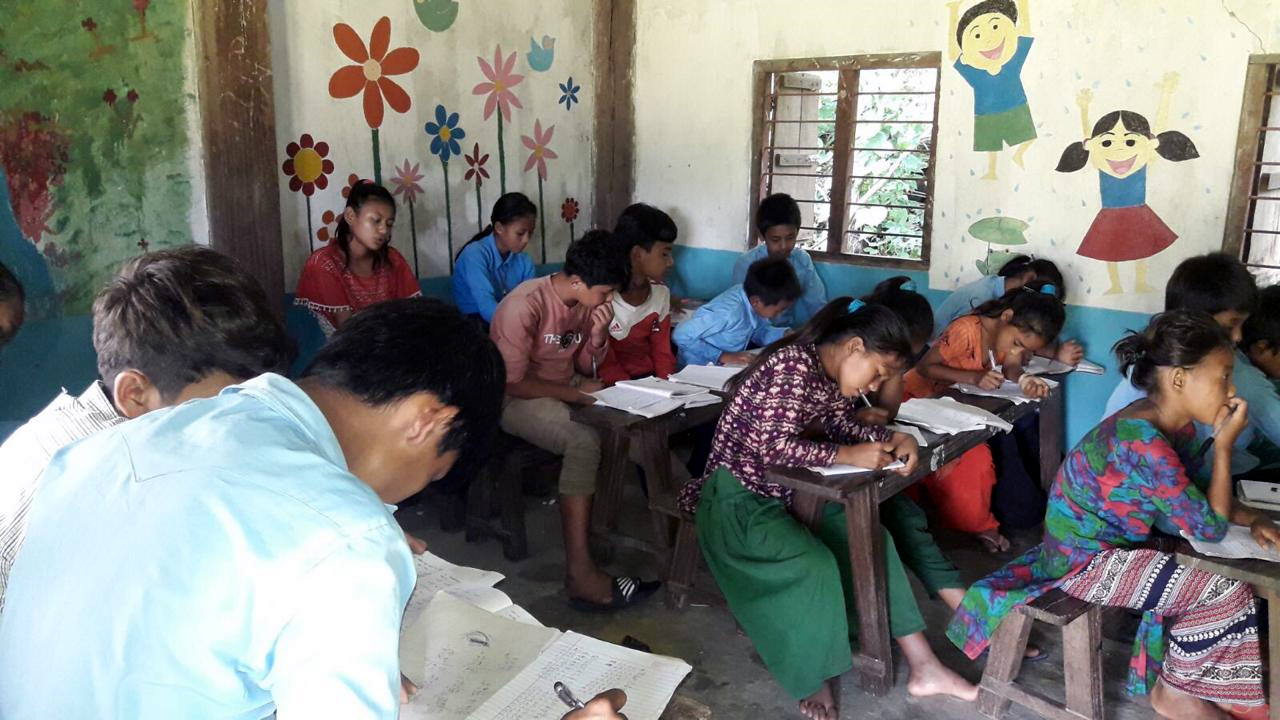 With a motivated teacher and in a child-centred laerning environment, children are eager to learn.
Dear readers, thank you for your continued support to our project 'From School to School'. Because of the current difficult situation, CEPP faces a lot of challenges. Do you wish to support their efforts regarding the quality of education in Nepal? You can do so on the Bikas account BE32 2200 7878 0002, using 'From School to School' as a reference.
---
---
---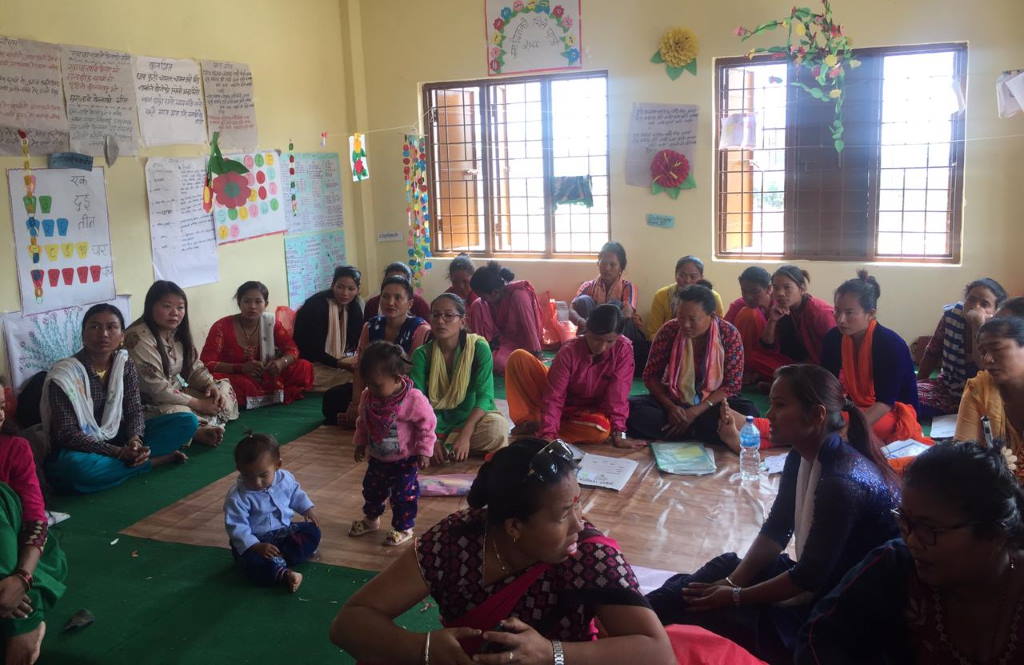 CEPP organises a practical training for ECD teachers.
April 2021
Do we close the schools or do we choose to keep them open with the necessary measures?
It is a question that concerns not only our policymakers and educators, but also the national government, local authorities and teachers in Nepal. A normal school year runs from late April to the end of March, but Nepal went into full lockdown from 24 March 2020 onwards, and it took a long time before teachers could use alternative teaching methods to more or less cater for the needs of the students.
Ever since September 2020, the government has been encouraging virtual learning, and authenticates study from five different modalities: face-to-face in small groups, through radio, through television, online study and offline study. All of these teaching techniques are new though, and without proper guidance, teachers may be at a loss. Moreover, a recent report by Unicef shows that three out of ten students do not have access to any of the virtual learning mediums.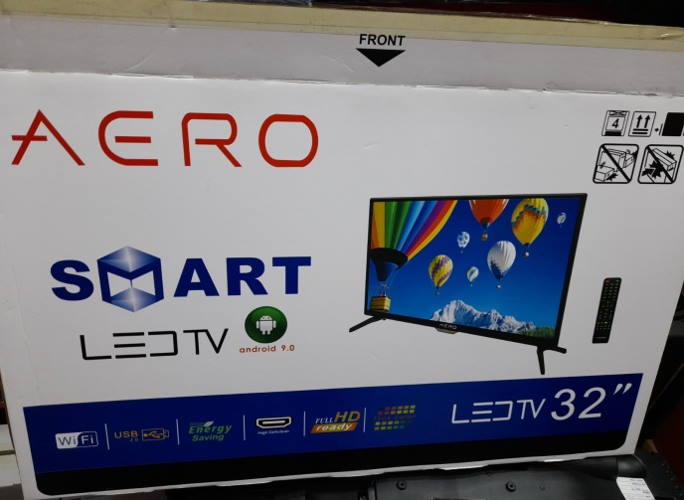 Digital televisions are entering education.
The problem is most prominent in the schools in the remote countryside because of a variety of reasons. The municipalities have only been made responsible for education in their area since a recent reform in 2018 and still lack experience and the necessary staff, especially to deal with these difficult circumstances. Teachers working in rural schools may have little (and sometimes no) formal pedagogical training, they may live away from their teaching area and, due to the ban on travelling during lockdown, be absent from the schools or the villages in which they normally work. Only very exceptionally do teachers have any computer skills or access to a computer. Hardly any rural government schools in CEPP's working area have a computer at all. Computer skills form part of the curriculum, but are taught… using a blackboard / whiteboard. Villages and schools may be void of electricity, and Internet access is still rare.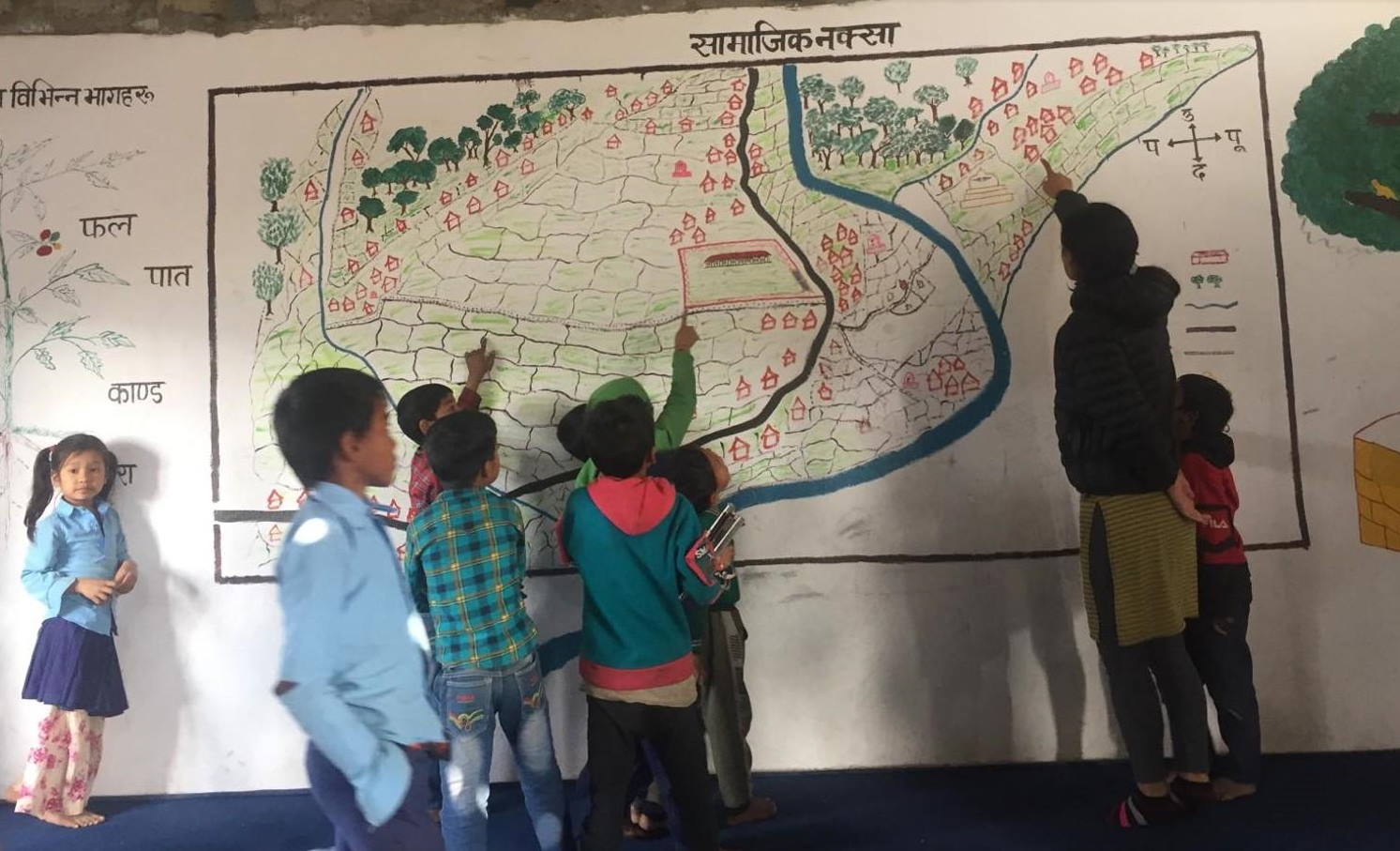 Children of Grade two look for their home on a social map drawn on the wall.
How have our CEPP partners (the Centre for Educational Policies and Practices) been trying to cooperate with the schools and municipalities in their working area, the Districts of Sindhuli and Makwanpur?
By now, schools have reopened and they are struggling to return to normality. The Nepali government has extended the academic year up to mid-April and has reduced the curriculum by 30 %, giving relief to panicking teachers, trying to 'finish the course of study' by all means. A return to normality is a relief for most teachers and schools. Ideas that flourished around learning outside the school, and away from the course books, have been replaced by the routine teaching based on textbooks, often restricted to repetition and memorizing contents.
CEPP has continued its usual job of speaking to parents, training the school committees about their responsibilities and improving classrooms with the help of parents and teachers.
Many schools, including Hakpara and Jutepani in Sindhuli District, have added pre-primary grades (called Early Childhood Development Grade or ECD) under new provisions by the Municipality. They have appointed 'teachers', but these have not received any teacher training. Hence, in the coming months, CEPP is planning to offer training that puts the children at the centre of the teaching process. As yet, education in this grade does not go beyond teaching the Roman and Devanagari alphabets, with many words to memorize and an exaggerated emphasis on spelling and on languages that may be unfamiliar to the children, namely Nepali and English. CEPP wants to emphasize the importance of the children's mother tongue, which is often Rai or Tamang in these rural villages (only two of the more than 100 languages spoken in Nepal).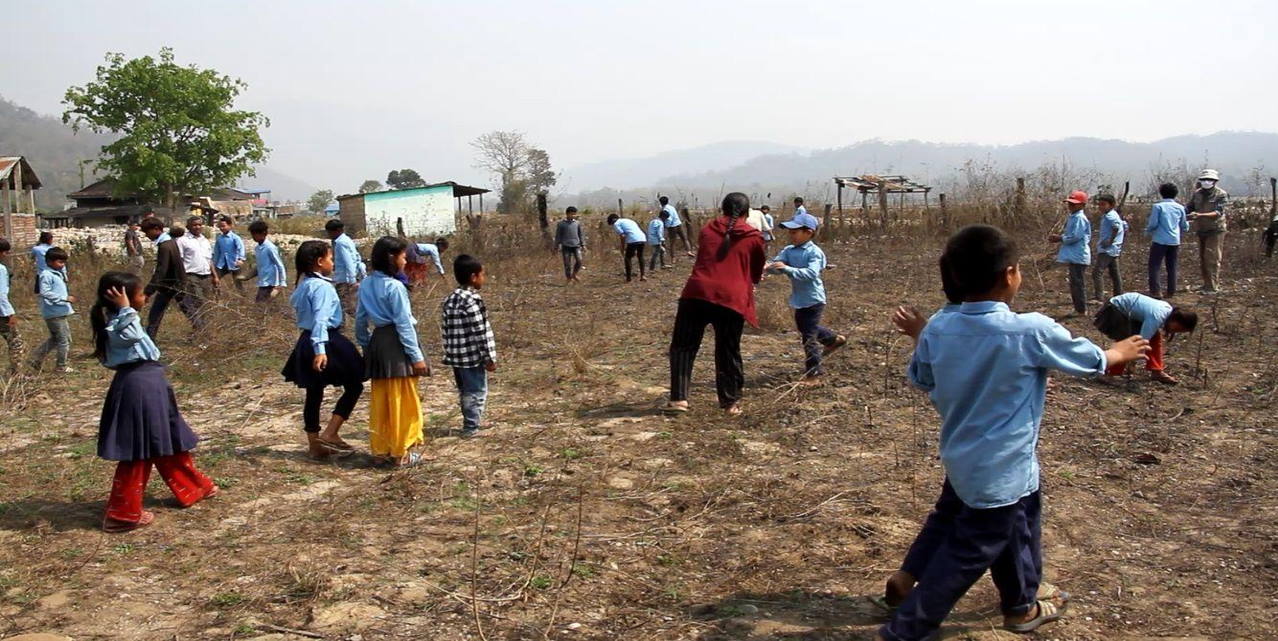 Children are preparing a vegetable garden - they remove the stones before ploughing can begin.
The hard work of establishing kitchen gardens and the greening of the schools was set back by the closure of the schools. Attempts have been made to revive them but the process does not get adequate attention yet in the race of finishing the textbooks. Given that land is provided and there is a level of enthusiasm in the school and a level of support by Bikas and HeSpace Children's Foundation alike, priority is now given to establishing a greening resource centre with a tree nursery and a kitchen garden. A specialist is hired to encourage local people to engage themselves. A well with a pump is to be set up for irrigation.
Digitization has been started with the purchase of tablets that can be used with a pen-drive, to beam images and content onto a flat surface. A digital literacy training for teachers is being considered, but is yet to be materialized. CEPP staff are busy working on a project to support the Municipality to meet the central government's requirement of developing a local curriculum, teaching children about things that are important locally. Getting somebody from outside the community would risk an inappropriate curriculum formulation and would make CEPP miss the opportunity to work with the Municipality and have an influential relationship on school matters.
In Belgium and in Nepal alike, all parties concerned are struggling to meet the children's needs in education. Nepalese educators are looking for a balance between contents and teaching methods, between tradition and innovation.
If you want to encourage CEPP's efforts in this respect, your contribution is welcome on the Bikas account 32 2200 7878 0002. Please mention 'From School to School'. We truly appreciate your interest and support!
---
---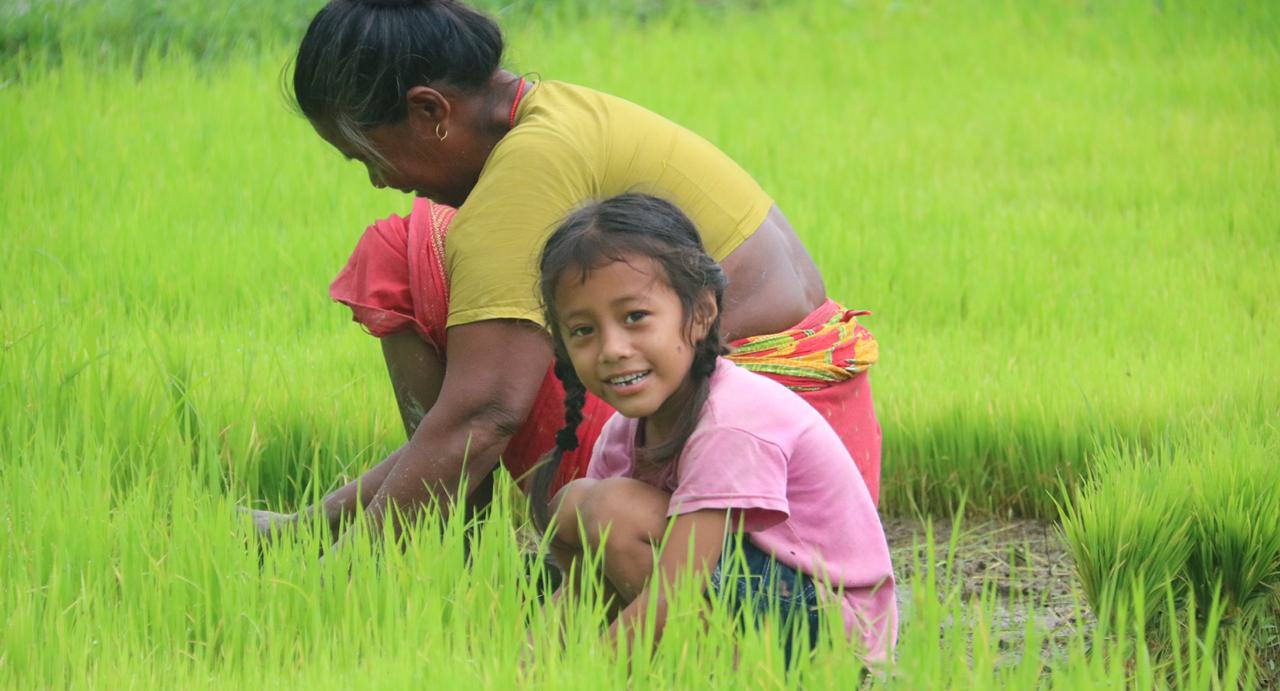 January 2021 - Back to Nature
Two thirds of the Nepali workforce is engaged in agriculture, but productivity is low, and the more people get an education, the more the status of agriculture is threatened. Nevertheless, because of Covid 19, many people could not work in the cities or in tourism anymore. They had no choice but to return to their native villages and be engaged in farming once again.
We asked Teeka Bhattarai, who leads our partner organisation, the Centre for Educational Policies and Practices, why he thinks the idea of agro-ecology is so important, especially with regard to education.
Do Nepali children have a balanced and healthy diet?
How can we encourage local communities, ecspecially the parents, to pass on the skills the children will need to produce a wide range of vegetables and raise farm animals, and be proud of their achievements?
How can we instil a love of the outdoors and respect for nature in the kids?
We already show a practical example: the construction of a school vegetable garden in Hakpara, Sindhuli District.




This is Teeka's response:
---
In Nepal, as elsewhere, education is often regarded as a liberation from producing your food. Agriculture is even presented as an opposite to schooling. A Nepali proverb says that 'if you don't study, you end up in earning a living by plowing'. Of course, this idea is not only specific to Nepal and it is also a recent one. In contrast, agriculture has also been boasted as the best occupation followed by trade and service for the independence and self-reliance it provides.
However, modern agricultural education is focused on growing food for money rather than for its own purpose, let alone for learning. Here I wish to share how agriculture is a double pedagogy for young children and can be an important part of the existential knowledge education should impart.

Teaching agriculture is a double pedagogy because, besides teaching techniques useful in farming, it can instill many habits that are desirable from an early age on. It is even more important to learn agro-ecology (ecological agriculture) as it seeks to combine nature and human intelligence. Farming is a knowledge-intensive enterprise, even though most people tend to think that anybody can do it. In Nepal, people have been engaged in agriculture for centuries. Farmers can do it because they have 'inherited' knowledge from their ancestors. I think that, even in Europe, many 'new' farmers immediately appreciate everything that is said here.

On a table below I have tried to establish some foundational life skills that can be taught through agricultural activities:
| Foundational life skills | What agricultural activities offer |
| --- | --- |
| • Creativity | • There are always multiple solutions |
| • Exploration | • You keep on trying as there are many variables |
| • Enthusiasm | • Changes in crops overnight keep enthusiasm high |
| • Physical movement | • Body movements have to be precise |
| • Purposeful act | • The results of your actions are explicit: you sow to grow |
| • Patience | • The results of your actions are not immediate |
| • Integration | • It integrates many disciplines: social skills, biology… |
| • Planning | • You must plan carefully to get results |
| • Adaptation | • Sun, air, water, soil are dynamic: you must learn to adapt |
| • Living with contrasts | • The world is not perfect – still you do your best |
| • Observation | • Learning to observe dynamic relations |
| • Concentration | • You cannot do much without concentration |
| • Resumption | • You have no option but to try again when things fail |
| • Thinking out of the box | • You have to be dynamic to get results |
| • Bounce back! | • Plants too struggle to overcome difficult circumstances |
| • Critical thinking | • It is an interplay between existing and new knowledge |
| • Karuna (kindness) | • You love what you grow – plants, animals, even humans |
Environmental education has been around for a few decades, as part of a 'back to nature' movement. However, agriculture probably can teach ecology the best as it has a more applied side to it. So, I would opt for agro-ecology than normal agriculture. Of course, it depends on how you approach it. Working with natural materials has already been at the centre of alternative teaching methods such as Freinet or Steiner. It should no longer be confined to alternative practices. In Nepal, it's a bit more difficult as most people are engaged in agriculture and the mindset is still to get away from it. Nonetheless, many children also know how to grow crops. It's a matter of reinforcing them, of appreciating what children already know by relating it to the curriculum. Teachers need to be convinced and they need to convince parents that knowledge does not only lie in books and that schooling is only for exams!
Partly as a consequence of CEPP's lobbying, the policy of having kitchen gardens in schools is already in place. The Ministry of Education has now issued directives for 'Green Schools'. Not too far from Nepal, Bhutan has adopted Green Schools in a more comprehensive way. Even though we are still struggling with the availability of teachers and their basic training, implementing these learnings seems to be the way to go if we want to achieve a society where people live happily, in harmony with their surroundings.
Teeka Bhattarai, Education Activist, Founder-Secretary of the Centre for Educational Policies and Practices, Nepal
---
Because we share Teeka's / CEPP's conviction that Nature should be protected and preserved, and that children growing up in the countryside should not be estranged from their natural environment, we designed a number of materials that are child-centred and that we hope will spark enthusiasm in both children and the grown-ups who educate them.
We knitted a range of vegetables that are common to Nepal, as a friendly way of introducing the subject to young children. We made a fabric wall hanging about vegetables and fabric booklets about fruit. We made memory games about healthy eating habits and about the rural environment.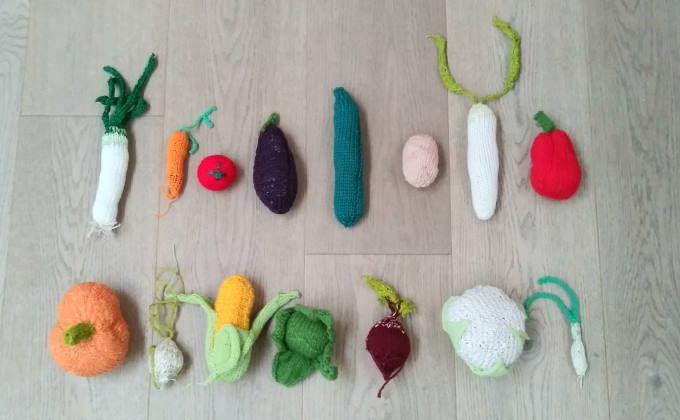 We laminated a number of pictures, that teachers and parents alike can use to discuss food and agriculture with the kids. We wanted the materials to be low-cost, handmade, beautiful, durable, simple and respectful of Nepalese cultures, things that can be replicated in Nepal itself too and that will help to create a happy atmosphere in the school environment.
We made a set for the schools of Jutepani, Hakpara, Simras in Sindhuli District, Kalidevi (the location of the Post School in the village of Chapp, Makwanpur District), and one set for the CEPP office, to act as a source of inspiration for the team. We also provided one set for the Brick Children School.

It is our deep wish to introduce the toys and teaching materials in teacher training sessions in these villages, but because of Covid19, we will probably have to be very patient… In the meantime, we hope these educational materials can reach Nepal soon, so they can inspire CEPP staff and we can be inspired by their ideas and initiatives in return.
Paul Beké and Carine Verleye
If you wish to support CEPP's efforts, your donation on the Bikas account BE 32 2200 7878 0002 will be very much appreciated. Please mention 'From School to School'. Thank you for your interest and solidarity!
---
---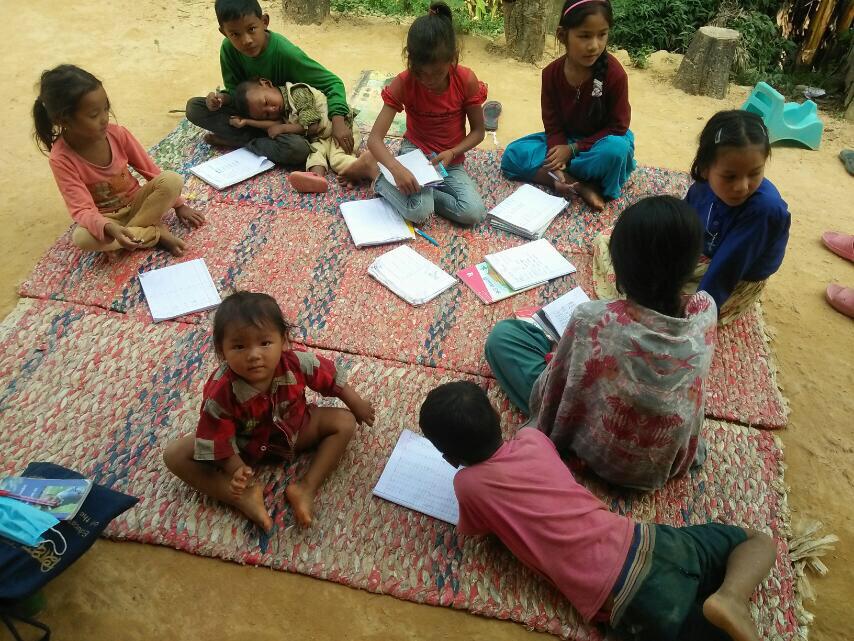 November 2020
The general situation (of education) in Nepal is alarming.
The response of the national government to Covid 19 is incoherent and inadequate. Information does not reach the impoverished population in the countryside and the minorities.
This situation is also characteristic of the attitude towards education. Education used to be a local responsibility, which meant the local community was always involved, even if this sometimes led to corruption. Under the Maoist government, Kathmandu determined everything: the appointments, the principle of 'compulsory education', the curriculum, the exams… Political appointments were common and in the remote countryside there was no longer any quality control. That system turned out to be untenable. Since last year, education has been 'reformed': local authorities are increasingly allowed to make their own decisions, but not all are equally committed, competent or prepared.
During Covid 19, Kathmandu has almost completely passed on responsibility for education to the local authorities.
This has magnified the differences between state and private education, education in the Kathmandu Valley and in rural areas, and between poor and rich.
The general guidelines from the central government towards the local authorities are: an evolution towards English-medium schools (while many rural teachers do not know English, not even Nepali properly) and 'distance learning' (while the majority of the schools do not have a single computer, and there are certainly none in the families).
Working under Covid 19 is a difficult assignment for CEPP
Either there is a lockdown and the field workers of the Centre for Educational Policies and Practices are stuck in the work area, or they are in Kathmandu and cannot reach the schools in the countryside.
The extent to which they can work together with the local educators depends entirely on the motivation and willingness of those people, and is therefore very different from school to school.
In Sindhuli and Makwanpur District in Inner Terai (the transition between plains and mountains, south of Kathmandu), schools nearly reopened in October. Then 60 teachers were tested, and 8 of them turned out to be positive! The reopening of the schools is therefore not yet happening. However, the villages are considered safer than the cities. At the moment uncertainty reigns, but in Inner Terai education is reduced to its core mission…
Day after day!
CEPP was able to reach all schools with which the organization works. There are more than thirty!
In five schools, CEPP organized a training activity for the School Management Committees, a kind of expanded parent council, which also includes teachers and people from the village who are concerned with education. CEPP field workers Amit (photo taken in Shree Primary School, Jutepani), Bir Bahadur and Bishnu (photo taken in Janjyoti Basic School Hakpara) discuss with them the rights and obligations of the SMCs, the impact of Covid 19 on the (education of the) children and the measures to protect people against the pandemic. How can teachers motivate the students and their parents under the present circumstances? How can parents support education?
Even though the schools are still closed, CEPP has so far been able to set up seven child-oriented classrooms in five different schools, together with teachers and parents. The murals are about the children's daily environment.
If the school is closed, the teacher will come to you! Teacher Panchee (from Hakpara) teaches outdoors every day. Her dedication is moving. Parents and a girl next door look on with interest ...
In Chapp, Makwanpur District, the school has not reopened yet. The teachers live further away and do not come to the village. The parents open their home to education for small groups of children (cluster teaching). Sani, motivator of CEPP, is from Raigaon but now resides in the village and lives with the community. She goes from house to house to talk to parents about education. The parents provide their house or a piece of land. Sani teaches 2 to 3 hours every week to 7 different clusters. Sani has no pedagogical training, but is full of motivation and strength. The whole village is counting on her.
Amit, Bir Bahadur, Sani, Michael, Bishnu, Panchee and the other CEPP staff and teachers are the silent heroes and heroines of education in Nepal, along with so many parents ... It is the people, their dedication and motivation, their strength and enthusiasm , which ensure that the children still receive some form of education. Day after day!
Let's keep encouraging and supporting them!
You can also contribute to this on account number BE32 2200 7878 0002 of Bikas non-profit, with the mention "From School to School". Thank you for your interest and for reading this article about the Centre for Educational Policies and Practices!
Dhanyabad
Right from the start, in 2008, the Sint Vincentius Institute, a secondary school in Gijzegem, East Flanders, has supported the 'From School to School' project. Every October, on World Teacher's Day, they campaign on the right to quality education, also and especially in Nepal. Thank you to all students and teachers for your contribution of 460 euros! The Group of former teachers and pupils of the school support us year after year as well!
---
---
August 2020

The monsoon has also started in Inner Terai, the work area of CEPP, the Centre for Educational Policies and Practices. The children help to plant the rice. After all, the schools were closed due to the lockdown of 22 March.

CEPP distributes materials to protect people from Covid 19. Teachers and parents are trained in the pandemic.


The government leaves the organization of alternative forms of education to the local authorities. Since 16 July, cluster teaching has taken place in CEPP's field of work, but because there is usually no external guidance and because many teachers come from other regions, in practice this only happens in 5% of the schools.

In Janjyoti Basic School, Hakpara, in Sindhuli District, Michael Rai, field coordinator of CEPP, helps teachers to distribute textbooks in the students' homes. Cluster teaching is done in small groups. On even days, the even classes (Class 2, Class 4 ...) come to school for 2 hours. The younger children are taught in the morning, the older children in the afternoon. On odd days, the odd classes are taught. Before the children enter the classroom, Michael takes their temperature. Teacher Panchi teaches a group of children from Class 2. First-year pupils and children from kindergarten make exercises.

Before and after: Michael and Ram from CEPP make a wooden platform for Class 2 and for Class 3. The teachers help. A wooden surface can easily be kept dust-free and insulates against the winter cold.

In Sree Primary School, Jutepani, cluster teaching is not possible. The principal of the school lives in a different area and cannot reach the school. Still, the teachers and the parents (especially the mothers!) are motivated. They are making a bamboo fence and taking care of the plantings.
Jutepani and Hakpara are two of more than 30 government schools with which CEPP collaborates in remote and poor villages in Sindhuli, Rautahat and Makwanpur District.
They organize training for teachers and parents, motivate children, parents and teachers, create child-oriented classes and natural playgrounds with them, and work with local and national authorities to improve the quality of education.
We would like to invite you to view photo reports about the evolution in Jutepani and Hakpara in the past school year and about a teacher training in neighbouring Simras:
Your support is welcome on the account of BIKAS non-profit organization BE 32 2200 7878 0002, with the mention "Friends of Paul and Carine" or "From School to School".
Thank you and stay happy and healthy!
---
---
April 2020
Let's work together
Our work stay, from January 8 to February 26, 2020, gave us the privilege to collaborate with 10 different schools and to provide teacher training together with CEPP and students of the teacher training department of Erasmus Hogeschool Brussels. We could encourage and inspire each other!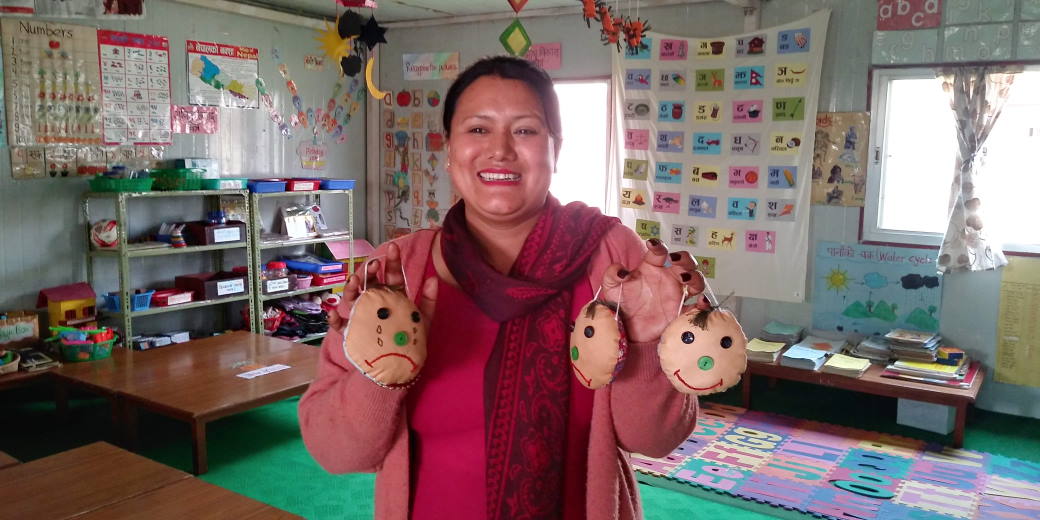 Susma, kindergarten teacher of the Brick Children School made these little dolls that help children to recognize emotions.
Her colleague Sanita sewed an interactive world map for older children.

A natural playground was created in Jutepani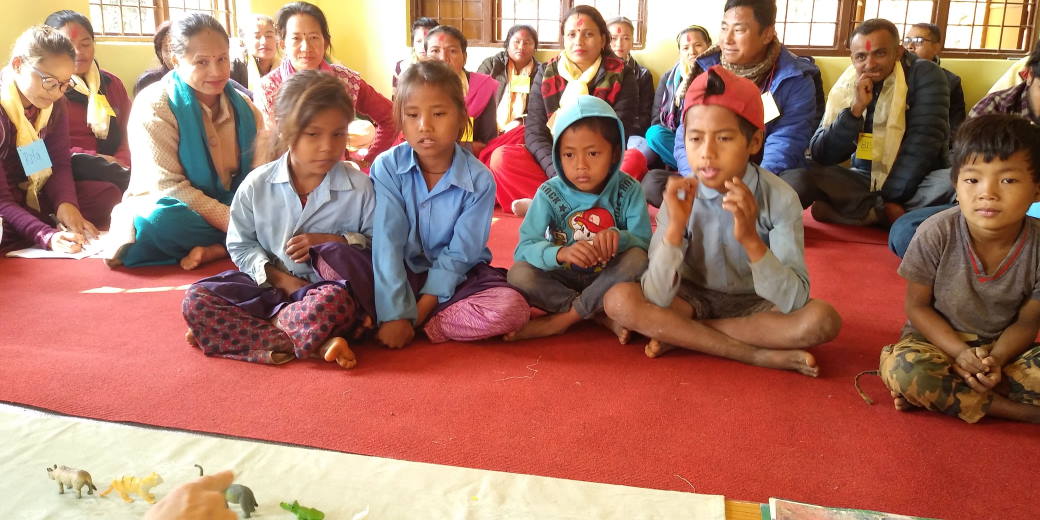 In Simras, children, 20 teachers from 15 different schools and 6 CEPP staff took part in the teacher training.
In Hakpara we made a World Class together. In this school, each class has its own vegetable garden.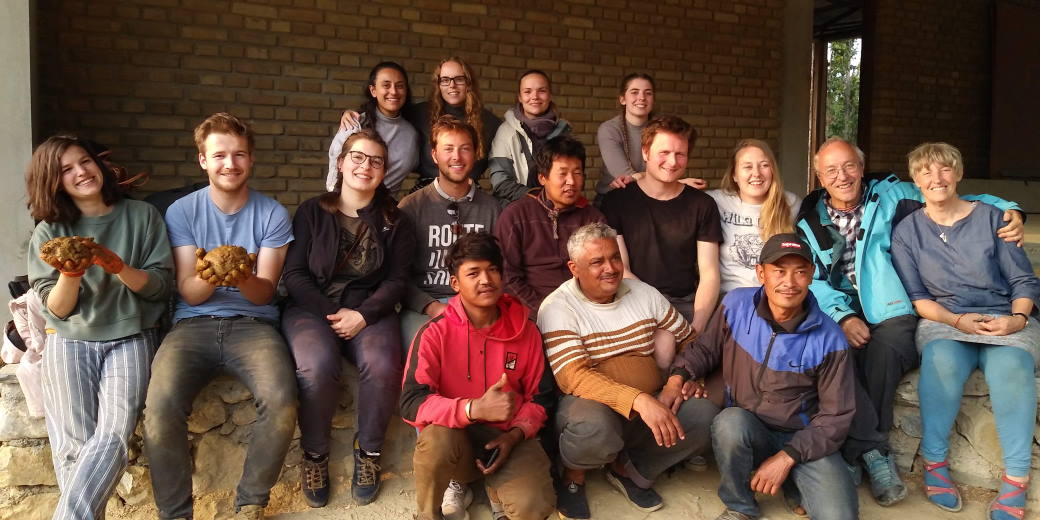 KULeuven Architectuur, Erasmus Hogeschool Brussel and CEPP joined efforts for the realization of the Post School in Chaap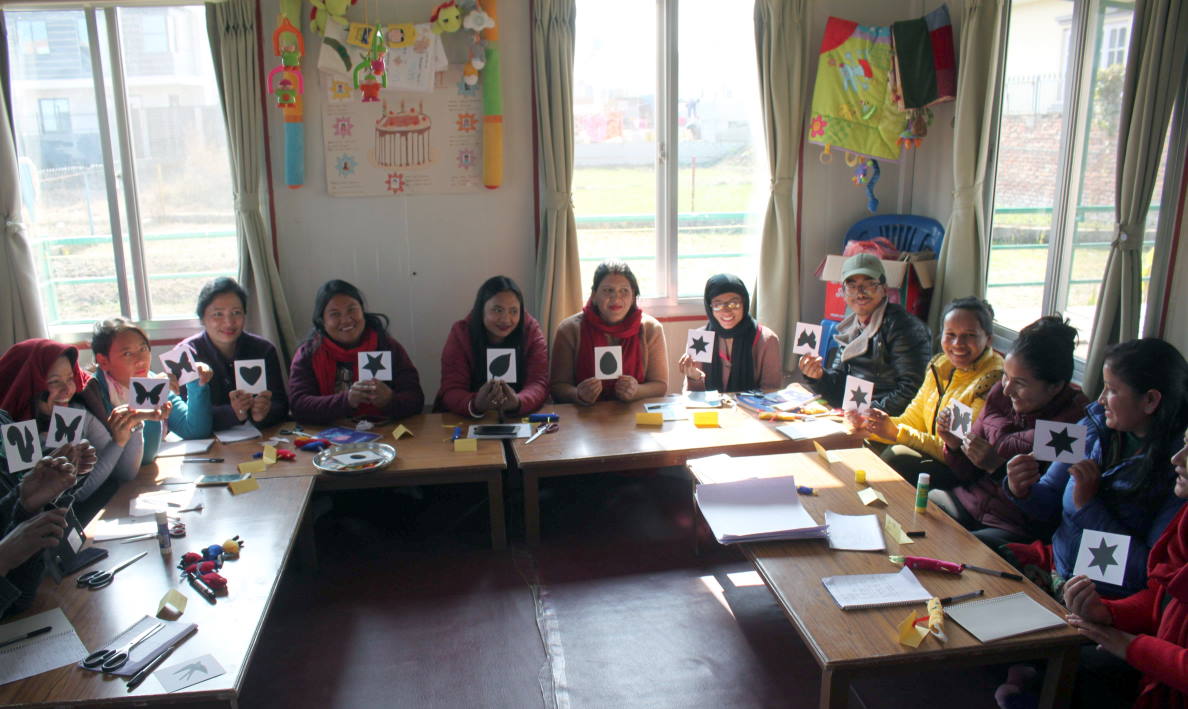 A workshop for 14 educators from the Cerebral Palsy Centre. We made materials adapted to the needs of children with a disability, such as these high contrast images. Children with CP often also have visual problems.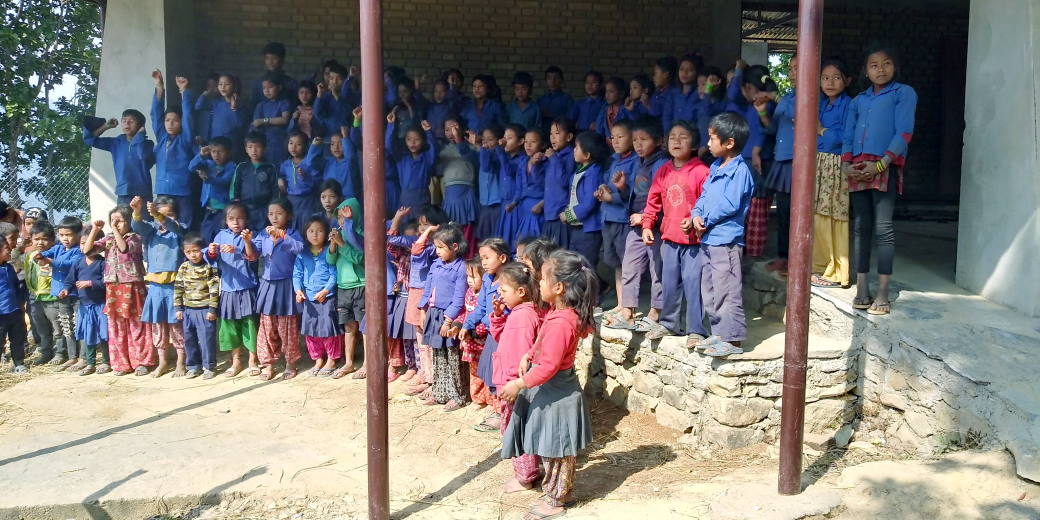 Unofficial inauguration of the Post School!
Unofficial inauguration of the Post School!

If you would like to support the efforts of CEPP (Centre for Educational Policies and Practices), your contribution is welcome on the account number BE 32 2200 7878 0002 of BIKAS, with the mention 'From school to school' or 'Friends of Paul and Carine '. Thank you!
Paul Beké en Carine Verleye
---
---
January 2020
Trees
Shree Primary School, Jutepani, and Shree Janjyoti Basic School, Hakpara, are a 45-minute walk from each other, in Sindhuli District, southern Nepal. Before 2019, Jutepani's playground had two trees, Hakpara's only one…
However, the temperature here can rise to 40 degrees in the summer.
Making schools greener is one of the main activities of CEPP, the Centre for Educational Policies and Practices, a Nepalese NGO that is committed to free ànd better education in this region.
Together with the local community, they provided a green enclosure with natural and local materials such as bamboo and shrubs. And also trees, so that the children can play in the shade. 17 trees and shrubs were planted in Jutepani, Hakpara's (large) playground now has 50 trees and shrubs…
Vegetable garden
School premises are not well maintained and they don't interest anyone. To make the school environment more lively, CEPP promotes the creation of kitchen gardens. The children and their teachers bring seeds and saplings in order to grow flowers and vegetables in front of their classroom. In this way, children learn how plants grow and what they need. It helps children to love plants, to take good care of them and to understand how important they are.
World Environment Day
90 children participated in a drawing competition: "Me and my green environment school". As a reward, 278 plants were distributed.
Child-oriented classes
Parents, children, teachers and Belgian interns helped to improve first-grade classes in Jutepani and Hakpara: painted walls, a raised wooden floor with carpet, low benches…
Jutepani is becoming an environmentally friendly and sustainable learning and living environment – and so is Hakpara!

Download additional photos
With special thanks to HESpace Children's Foundation and to everyone who supports CEPP through BIKAS vzw, account number BE32 2200 7878 0002. Please add 'From school to school' or 'Friends of Paul and Carine' as an entry.
---
November 2019
We have been working together for 10 years now with the Nepalese ngo CEPP (Centre for Educational Policies and Practices).
CEPP wants to improve public primary education, especially in remote areas in the south, where the alluvial plains start to give way to the mountains: Inner Terai.
They want to empower teachers, parents and students alike. Teachers in these remote villages have often had little (or no) formal pedagogical training, may come from a different ethnic group and, because of limited transport facilities, may be forced to live close to their schools and away from their families. Motivating them and appreciating them is of primary importance. Parents are often unaware of their rights, CEPP encourages them to get organised in SMCs, School Management Committees, so as to become partners in education, together with teachers, headmasters and local educational authorities. Students have a right to engaging, interesting educational activities, based on their own experiences and local environment, but also opening up the world for them and preparing them for Nepal's ever-changing prospects.
Moreover, CEPP wants to influence local and national educational policies.
It is in this context that we have been cooperating with CEPP, and our yearly 'teacher trainings' are evolving more and more towards 'teaching exchanges'. We work on a basis of equality, we exchange values, views and techniques in a spirit of modesty from our side, because: who are we, to tell Nepali teachers hów to teach? We would rather share our experiences and skills, exchange views, learn from them as much as they learn from us.
Mostly, our exchanges are very practical: we design puppets together, imagine stories to tell the children, discuss how to use Unicef's tin trunk with educational materials (distributed in these schools, but often unused), create a shadow puppet theatre, craft memory games and flashcards, design maths activities... We often work with locally available, natural materials such as stones, twigs, sand… and free materials such as cardboard boxes or old newspapers.
In what CEPP calls 'the field', their working area in the southern districts of Sindhuli, Rautahat, Makwanpur, we bond with the local community, by living in a family for a week, working together with the teachers and children in the village school, organising an intensive two-day training for about twenty teachers, also coming from the surrounding villages. Only then do we move on to the next community.
With some teachers from Jutepani
In this edition of Bikas Magazine, we will focus on two central aspects of our cooperation:
– Educational philosophy: what do you want to teach your children? – reflecting about education.
– Teaching practice: the bamboo workshop - learning from the Nepali people by attending a workshop and enriching it with our own experience.
Educational philosophy: What do you want to teach your children?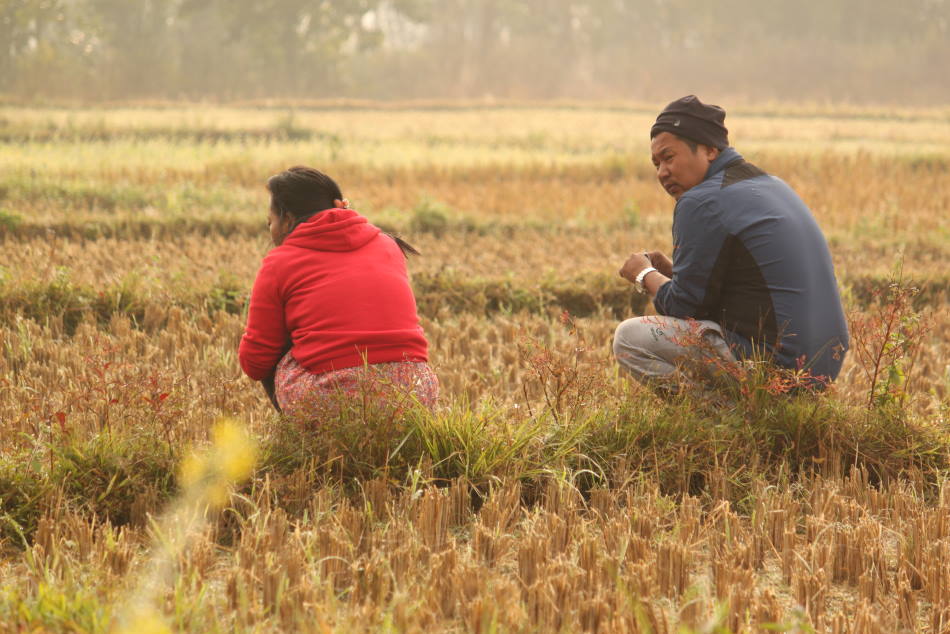 Informal consultation between Michael Rai, field coordinator and Bishnu Chepang, CEPP employee, before the teacher training.
Field coordinator Michael Rai, teacher trainer Ganesh Sapotka and CEPP fieldworker Bishnu Chepang ask the teachers what is important for them in their work and in their relationship with the pupils.
As an introduction, we express some of our personal views.
In Nepal, as everywhere else in the world, education is becoming increasingly complicated.
The information and communication revolution is reaching the country, at least in urban environments. The structure of villages is changing rapidly: a lot of work is being done on infrastructure, which signifies that formerly isolated villages will soon be connected by 'blacktop' (=asphalt) roads, and even linked to the capital city. With the roads, electricity will come, and the Internet, ànd fast food ànd tourists, ànd private (costly) education – and, certainly, a lot of confusion…
Before, on the countryside, it was more or less easy to know what to teach the children: teachers made their pupils copy the textbooks and repeat and memorize multiplication tables, the alphabet, English words etc. Children learned 'subsistence farming' from the local community. Nowadays, children may go to boarding schools in urban areas, adolescents may work in Kathmandu after they leave school, increasingly emigrate to countries in the Middle East, in Malaysia, Japan… How are we to prepare them for such a future?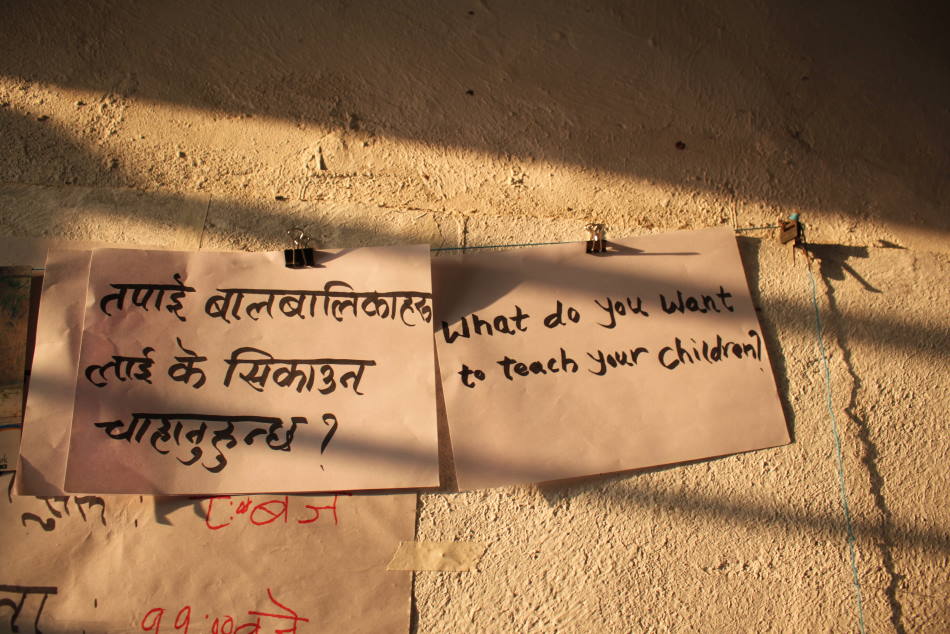 What do you want to teach your children?
The teachers write down their personal views, in the language of their choice, Nepali or English.
(You can find all their comments on the website, https://bikas.org/EN/TTR_dec18).
CEPP then discusses the answers with the teachers, in Nepali, afterwards sharing a summary with us:
Most teachers want to educate the children 'to respect the elders' and 'to love the younger', so as to become 'good and capable citizens of the nation' - aspects that are central to Nepali society ànd an educational philosophy that is promoted by the government.
Discipline is also highly regarded: pupils should obey the rules and regulations of the school.
Teachers are aware of the value of Nepalese cultures: they want to teach about the history of their language, culture and traditions, and consider how to save this heritage for future generations.
Most teachers want to share the knowledge and skills they have, such as language skills and mathematics.
Although Nepalese ways of teaching can be quite theoretical, involving mostly memorisation and repetition, and aimed at being successful in the centrally organised examinations, teachers are increasingly aware that this will not fully prepare the students for the future.
They want to make the children feel at home in the school, are concerned with their needs, likes and dislikes, pay attention to their psychology. They want to collect and use local teaching materials.
They want to teach:
• personal sanitation,
• friendliness,
• knowledge about the environment and nature,
• how to adjust to a changing world and use modern technology,
• wisdom.
One of the participants summed up his philosophy:
"As a teacher, it is my responsibility to be careful about my students. I will try to teach my children as indicated by the full form of EDUCATION: E= Educated, D= dedidated, U= useful, C= clever, A= active, T= trained, I= identity, O= Optimistic, N= Nature
We ourselves learn a lot from these exchanges. We are strengthened in our belief that education is inspired by values, attitudes, skills and knowledge are equally important. Children are most receptive to this when they feel happy. We hope that this kind of reflection will encourage teachers to create happiness and future prospects for the pupils.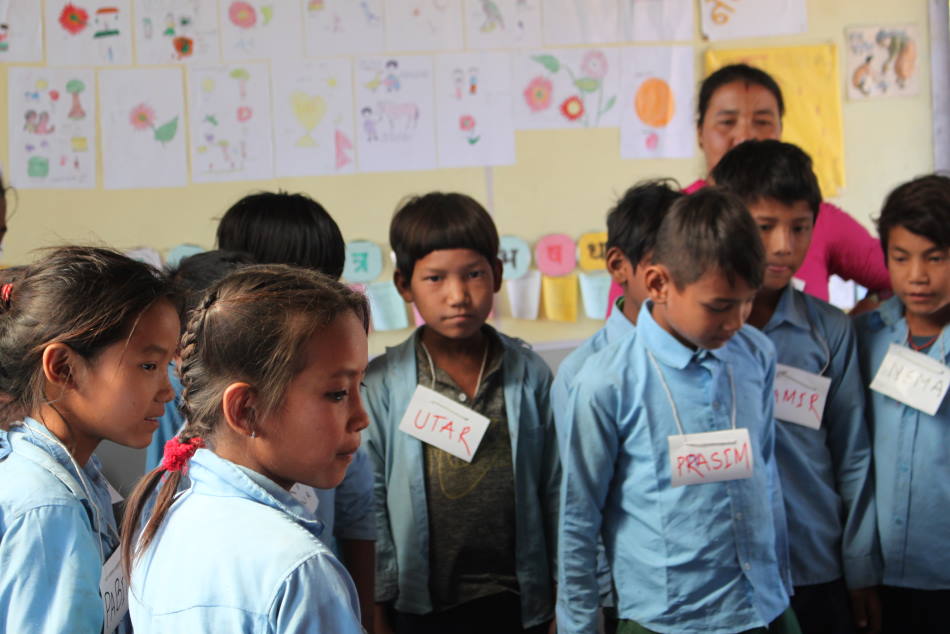 Happy Children
Teaching practice: the bamboo workshop
Michael Rai invites us to visit the Shree Janahit Basic School, in Ratamate, Makwanpur District
There he organises a 'bamboo workshop', based on the following observations:
• In the villages, (teenage) girls are not used to handling (what Michael calls) 'weapons': tools such as hammers, saws and knives. That is mostly reserved for the boys. Handling these tools can give the girls more self-confidence and improve their skills, emancipate them and gain them respect.
• In the schools, there is often a class filled with waste materials: construction wood, broken benches etc. Re-use of materials is not common.
• The Temporary Learning Centre (TLC), a makeshift class constructed after the earthquake, and made of bamboo poles and bamboo strips has fallen into disuse. The bamboo strips could be re-used to create cabinets that could hold books or teaching materials.
• Local people can share their skills: parents skilled at woodworking can be engaged, thus gaining more respect from the teachers and creating a stronger bond between school and local community.
We observe Michael's bamboo workshop, admiring his patience, social and practical skills – admiring the perseverance of the girls and the way all participants clearly enjoy the activity and
learn at a fast pace!
We ourselves want to introduce bamboo as a play and learning material, inviting students to cut bamboo poles to different lengths and use
• the poles for physical education,
• the shorter pieces as 'loose materials', intended for non-directed, open-ended play, stimulating them to discover the properties and learning opportunities of these materials by themselves,
• the bamboo to stimulate their imagination and creativity.
It was such a happy and interesting day!
If you want to support CEPP in its efforts to create a happy, child-centred educational environment, your contribution is welcome on Bikas' account BE32 2200 7878 0002. Please mention 'From School to School' or 'Friends of Paul and Carine'.
Thank you very much!
Paul Beké, Carine Verleye
---
---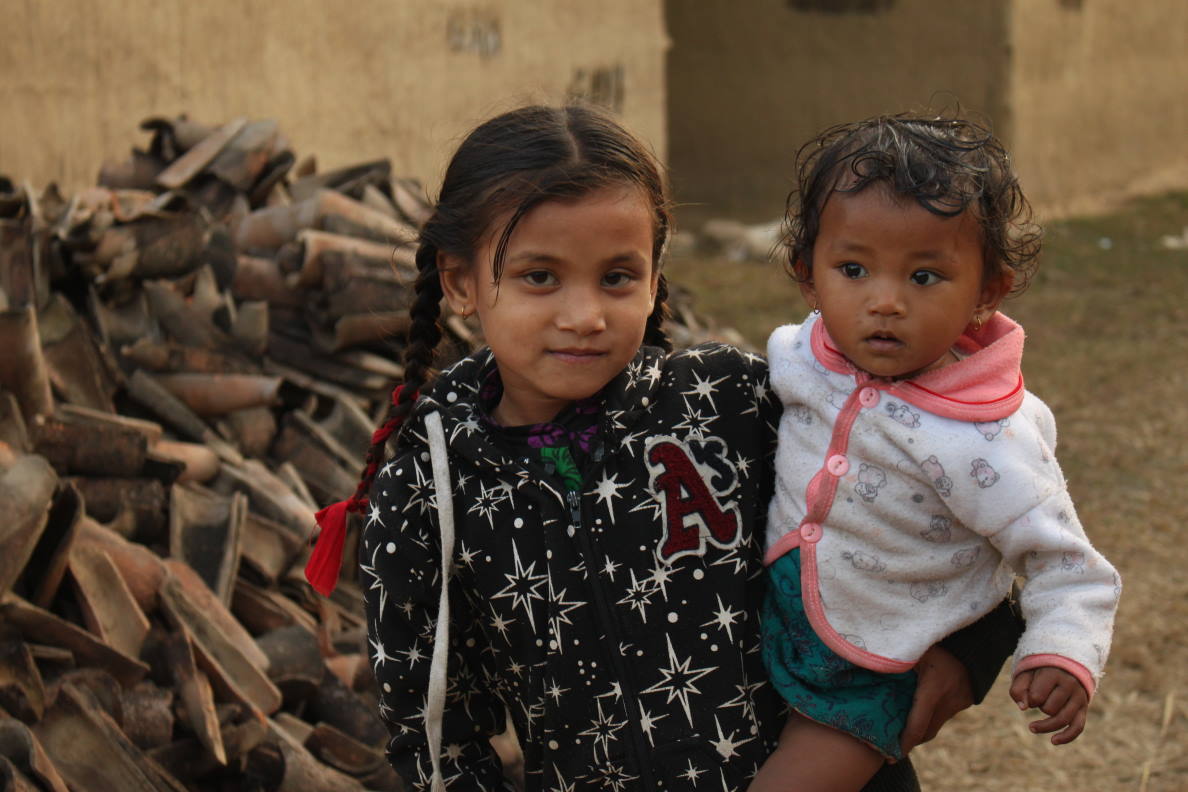 Parlisa is just 7 years old. She lives in Nepal's Inner Terai, where the plains start to give way to the mountains.
August 2019
Her village is called Jutepani, and she goes to the local primary school.
What will her chances be in life?
Her teachers have received little training, and education is often restricted to rote teaching: the children repeat what the teacher says and copy their textbooks, without understanding.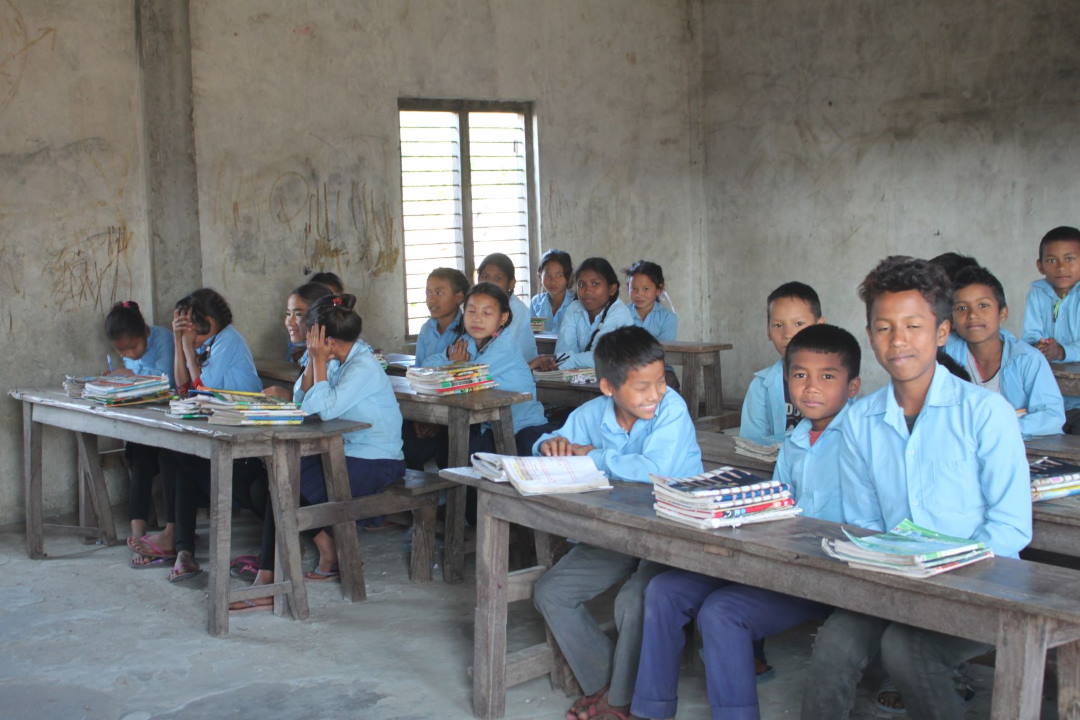 After finishing Class 5, Parlisa will probably go to the secondary school in the neighbouring village of Hakpara.
There are hardly any pedagogical materials in the schools, classes are bare and the schoolground is uninviting.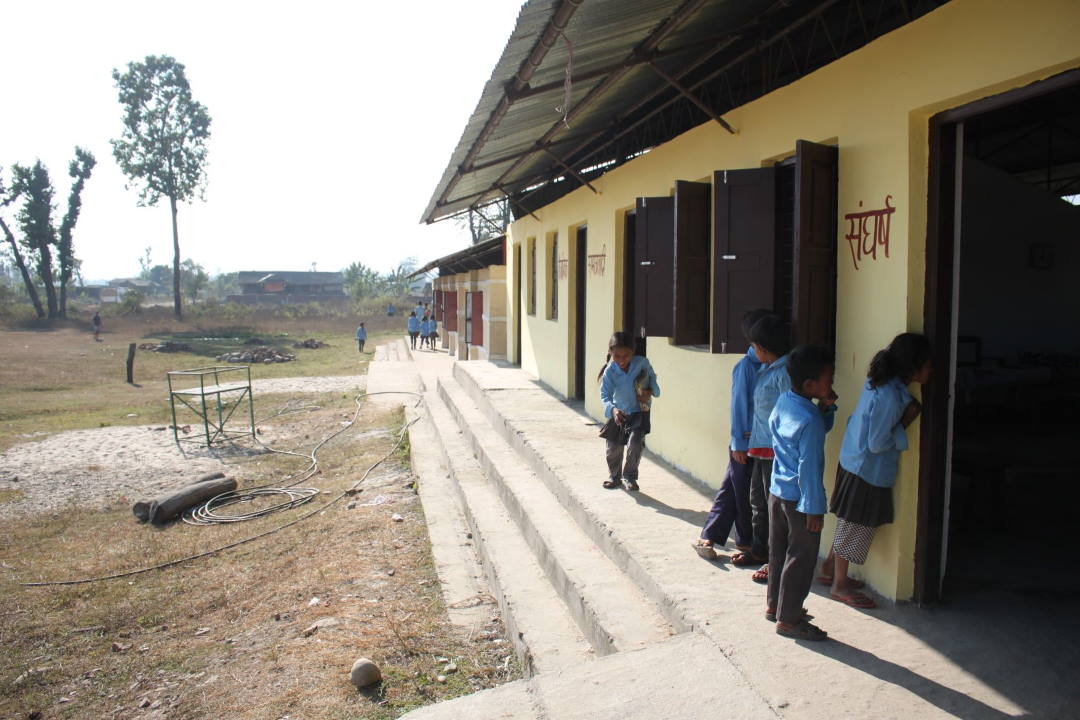 The school and playground at Hakpara.
It is in this poor and relatively isolated area that HE Space Children's Foundation wants to support education. We will work together with a Nepalese NGO, the Centre for Educational Policies and Practices, that regards education as the 'great equalizer' in society. CEPP wants to motivate, support and train teachers, make parents aware of their rights, improve teaching conditions and influence local and national educational policies.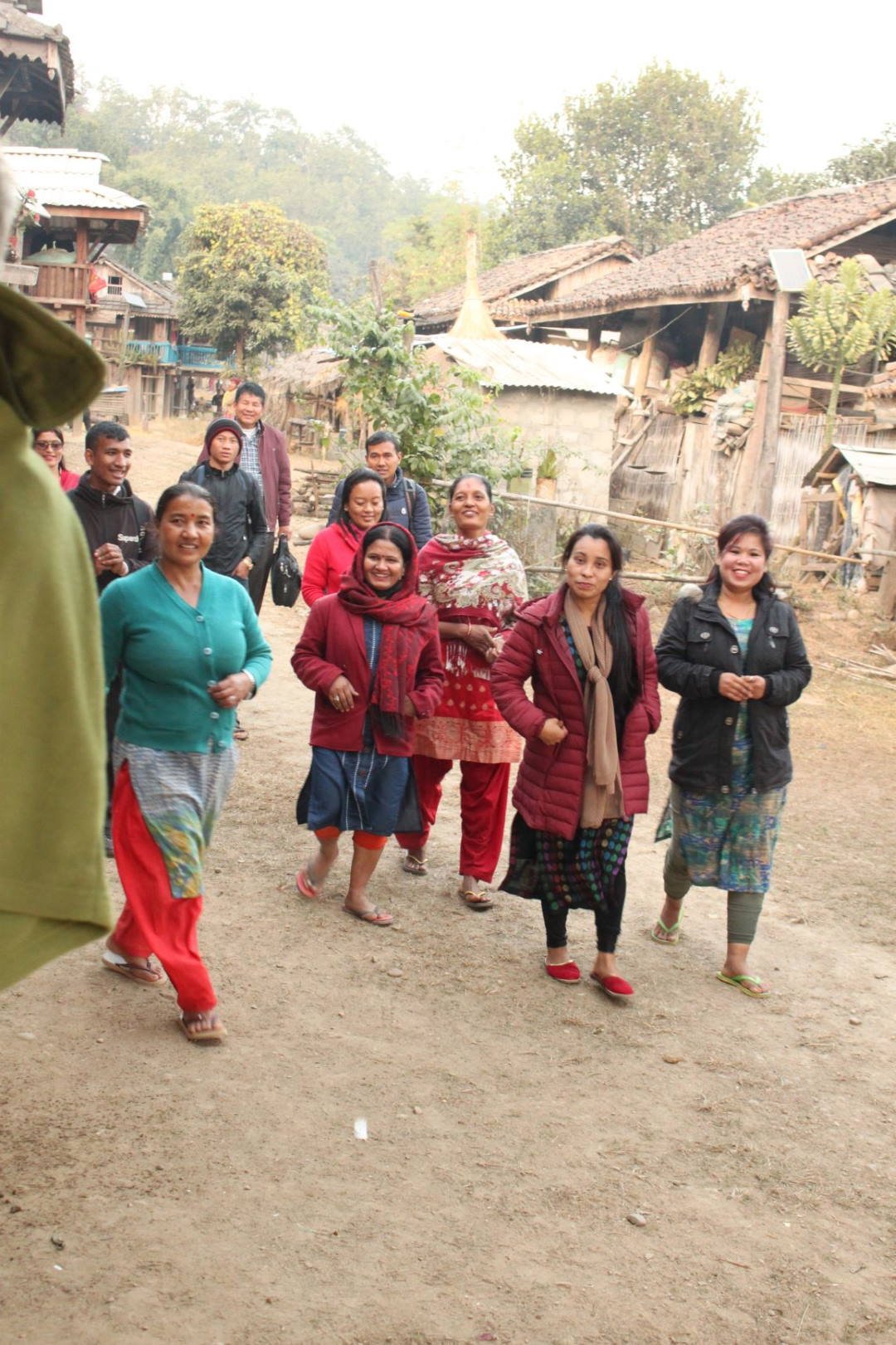 Teachers from different schools in the area on their way to a CEPP teacher training in Jutepani.
Together with CEPP (
https://schoolingnepal.wordpress.com/
) and (
https://www.facebook.com/schoolingnepal/
), HE SPace Children's Foundation has committed itself to make classrooms more child-centred, to develop natural playgrounds and coach teachers, parents and pupils alike.
The programme will be carefully monitored by the Belgian non-profit organisation BIKAS, that has 30 years of experience in supporting Nepalese development projects.
The programme's evolution can be followed on
https://bikas.org/EN/from_school_to_school
, where regular updates will be posted.
Pheri Bhetaula! (See you soon)
---
---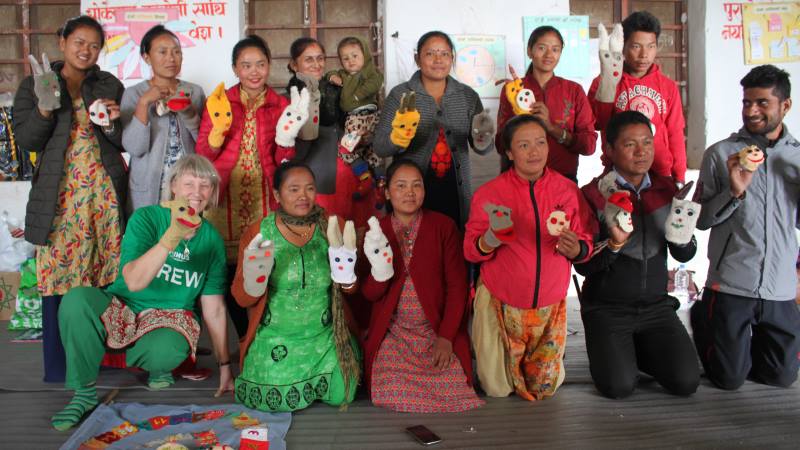 January 2019
Between November 17 and December 29, we took a six-day holiday and spent five weeks 'in the field', in the remote villages of CEPP's working area. We lived with the people, immersed ourselves in education, worked together with teacher trainers Michael and Ganesh from CEPP, with Bishuman and Dil Chepang from Little Flower Society, with teachers, children and parents. We gave training in Neupane (Tamang village in the district of Kavre), Chhap (Sindhuli), Bharta (in the Chepang Hills, Makwanpur), Navodaya School (free education and boarding school for children of the Chepang minority in Tandi, Chitwan), Jutepani ( Sindhuli), Raigaun (Makwanpur). We were able to document the schools in this area for the students of the teacher training college at Erasmus Hogeschool Brussel and Odisee Hogeschool Brussel, who start their internship in Nepal at the end of January.
Continuity is important for these schools, for our CEPP partners and for us, and we believe that this prospection allows us to support students to work in the field as effectively as possible.
Thank you all for your trust!
Together with the people from the Brick Children School and the Cerebral Palsy class, we developed colorful velvet fishes, a tactile book and a tactile blanket for the children with CP.
Networking is also important in Nepal itself. We brought Puja Dunghana (https://bikas.org/EN/node/10), who is now 18 and works as a motivated temporary teacher in Neupane, in touch with CEPP and with the Brick Children School. We hope that these contacts will encourage her.
CEPP and the Brick Children School are determined to work together. Many families from Sindhuli, Rautahat, Makwanpur go to the brick factories in the dry season. They take the smallest children with them. After their time in the Kathmandu valley, it is often difficult for the children to reconnect with the education in their own village. In essence CEPP and the Brick Children School work with the same children and both organizations can support each other.
CEPP is also willing to help the new schools in Haku, Nesing and Khadbari in their pursuit of quality education. They want to set up a training activity called 'training level zero', an analysis of the initial situation on a pedagogical level, with accompanying advice, and a motivation programme. Then they will pass on the details of skilled teacher trainers.
We ourselves have evolved from 'teacher training' to 'teaching exchanges', in mutual respect.
We are guided by a number of principles, which we also share with the people in the field:
The purpose of education is to create a happy environment in which children can be themselves and can evolve in a positive way.
Through education, we can pass on knowledge, skills, attitudes and values.
We can achieve it in a formal way: by grouping children in a school environment. Their grandfather can teach them a skill, their mother can teach them to respect their siblings, the shopkeeper can teach them to be careful with money, the neighbour can teach them to love plants and animals...
Education happens everywhere, not only in a formal environment like a school, and anyone can be a teacher: anyone can teach children the things he / she is enthusiastic about.
Whenever we start a workshop, we tell the participants:
"We would like to organise a very practical workshop. The aim is to have a real exchange, to share ideas. We respect your autonomy and the fact that you and the teachers / educators / medical people / parents know the children best, you are responsible for them day to day.
We think our contribution can be valuable because we have a long life experience and teaching experience and because we are interested in Nepalese people and the different cultures in Nepal.
We also want to learn about you and learn from your skills and knowledge.
We hope we'll have a good time together :)"
Our time in Nepal was intense and happy, as is apparent from the following photos: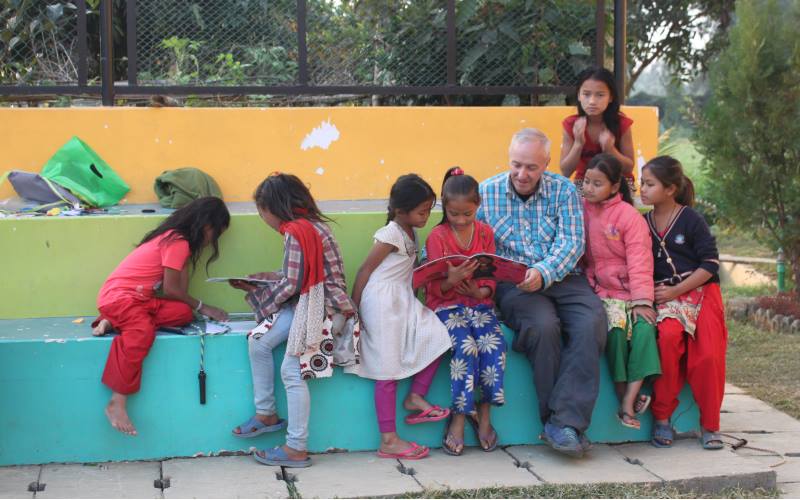 Reading promotion in Navodaya School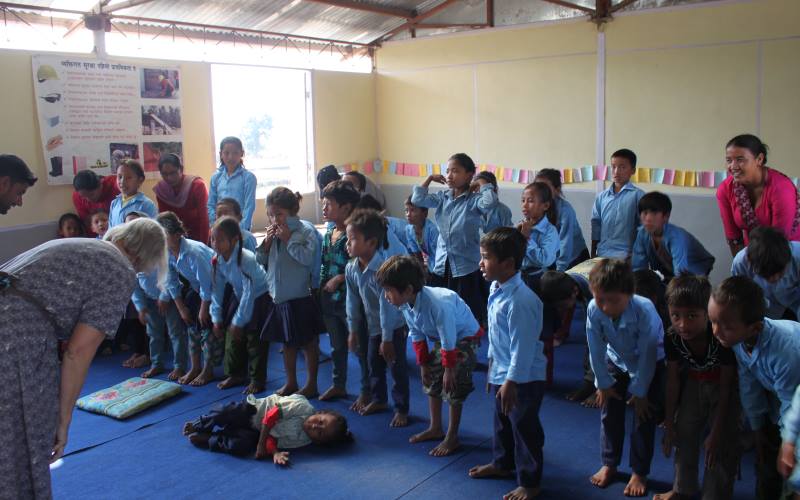 Teaching a song: Head and Shoulders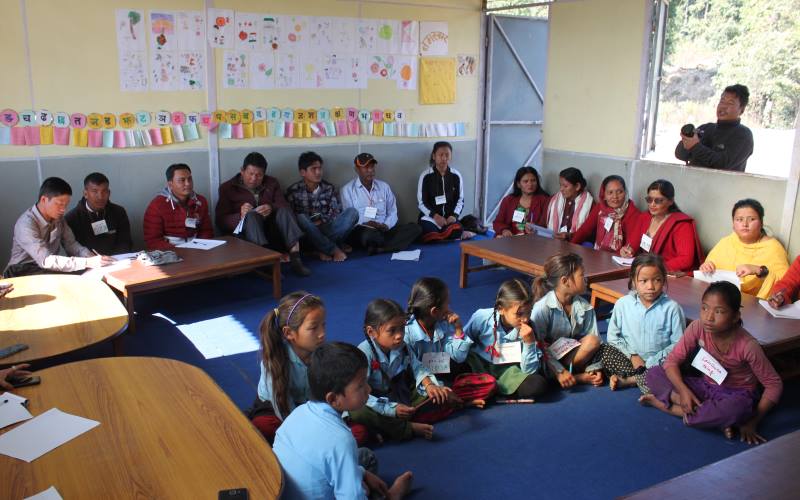 Teacher training in Jutepani - the children participate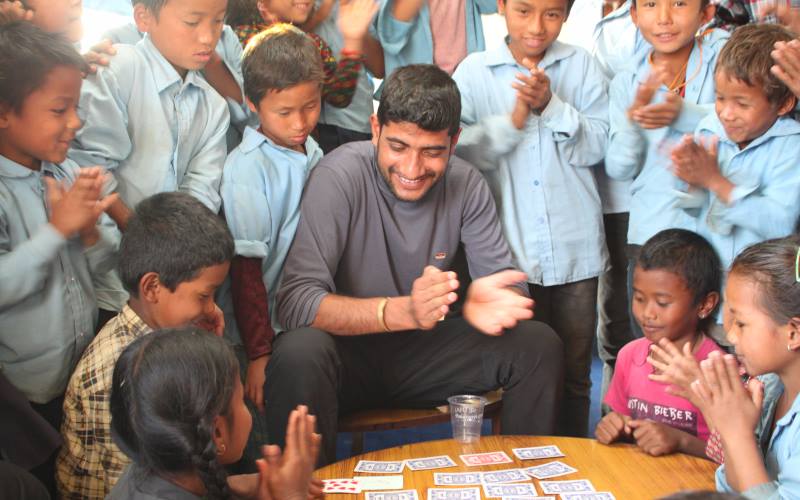 CEPP Teacher trainer Ganesh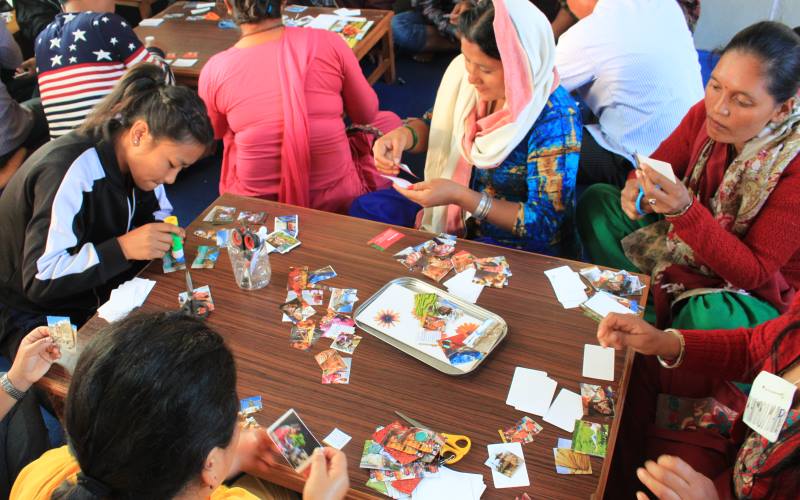 Memory games, flashcards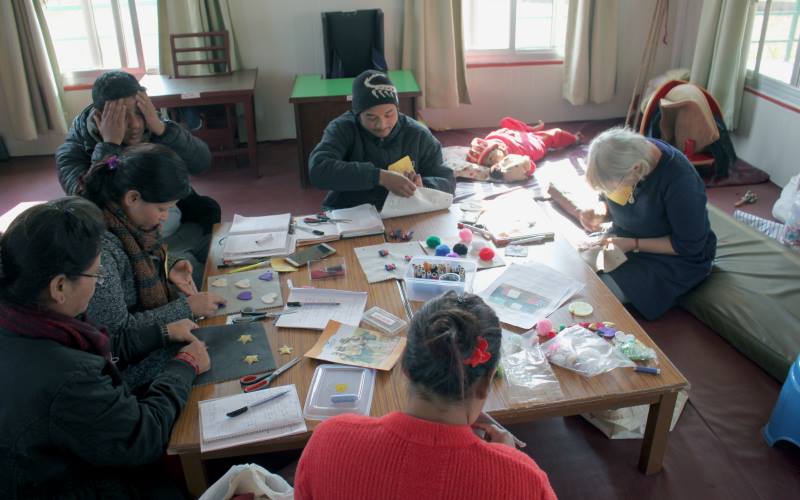 A tactile book for the children from the CP class
Do you want to support the efforts of CEPP to improve the quality of education in rural schools? This can be done on the account number BE32 2200 7878 0002 from Bikas, with the mention 'From school to school' or 'Friends of Paul and Carine'.
Thank you in the name of the children!
---
---
[ Published previously ]
November 2018

August 2018

April 2018

January 2018

October 2017

July 2017

April 2017

January 2017

October 2016

July 2016

January 2016

---